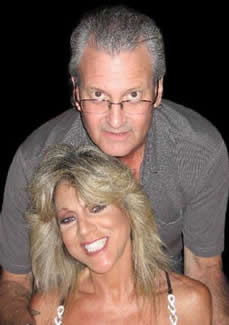 Robby Settles with Betsy,
August 2009.
Robby Settles was the co-founder and drummer of Bitch, and was with the group longer than any other member, including Betsy Bitch herself. He was born and raised in Texas, and moved to California in 1979, co-founding Bitch with David Carruth the following year. He married Betsy's older sister Jane, with whom he had three girls. In 2009, Robby was diagnosed with leukemia, and he left us on May 26, 2010, after a year-long struggle with the illness. He was 53.



"Robby had a heart and drum set the size of Texas! In Bitch, he was more of a "peace keeper" than a " Spinal Tap style exploding drummer". He let the drums speak for them self. I can't believe he's gone. He is Loved and he is missed."
—Joe Romersa, producer of Bitch's album The Bitch is Back (1987)
"Robby Settles was the nicest guy I've ever known. Great sense of humour, kind and gentle and genuine. He was the definition of a family man. You see evidence of this in how great his daughters are. I attended the memorial for Robby yesterday [May 29, 2010] and the girls each gave heartwarming, funny and loving tributes to their fallen father. I am blessed to be considered an extended family member in this wonderful group of people. Robby will be sorely missed by everyone who knew him. I had the honour of sharing stages and holiday tables with the man and will hold those memories fondly for the rest of my life. R.I.P. ROBBY SETTLES"
—Jay Dean, guitarist of the Bitch's All-Star Lineup Mark I
"Bitch was one of my first assignments when I worked for Metal Blade Records. Robby was one of the kindest musicians in the business. Always polite, easy to work with and appreciated whatever Metal Blade was able to do for the band. Glad that I had a chance to work with him!"
—Tim Yasui, Vice President of Cleopatra Records and drummer for London and Spiders and Snakes

"Robby was one in a million, he always had a smile a mile wide, a new joke to tell you, or a killer road story.One of the Easiest guys to work for. Im glad to have called him my friend. R.I.P.; you will be missed."
—Mike "Ozzy" Gibbens, Bitch roadie and photographer
"In my opinion the Hard Hitting Robbie Settles was one of the most underrated drummers in metal. As great of a drummer that Robbie was, he was an even greater friend. We miss you man! RIP."
—Bill Metoyer, producer/engineer for Bitch, Slayer, WASP, Fates Warning, and many others
"We lost another metal legend and kind soul. RIP, brother...."
—Brian Slagel, CEO, Metal Blade Records
"Not only [was he] an amazing drummer but even more amazing as my husband and daddy to our 3 girls.....our hearts are broken."
—Jane Weiss Settles, Betsy's sister and Robby's widow

Betsy has always trusted her "Boys" with the detailed discography and name and date details in Bitch's history. So early on when researching for Betsybitch.com (in late May and early June of 2009), I submitted interview questions to Robby to fill in some of those details. Robby submitted some fascinating recollections about the band's story, and his mind for detail was truly amazing.
Sadly, this turned out to be his final interview. It is reproduced below.

PART 1
Regarding a rough draft of the Bitch Bio that I submitted:
I'll answer/correct what I know:
[When I was a teenager,] I wasn't really that into Southern Rock as I was into hard rock. The Ezra Brook Band [Robby's original band when he lived in Texas] played "hard rock 'n roll". It was anti-glam and anti-disco in 1978 when rock was trying to find itself again. Ezra Brook was a heavy version of what the Black Crowes would be later. It toured Texas and Louisiana for about a year. Notable shows were with Savoy Brown, Riot, Buddy Miles, and Steppenwolf.

I moved to Huntington Beach , CA in Nov 1979. David was already living in Van Nuys. Bad Axe [David Carruth's band prior to co-founding Bitch] was peaking at about that time. I went to some shows. I decided to move to Hollywood in August 1980. I stayed with David [Carruth] for two weeks while looking for apartment and work. By then Bad Axe was splintering. David felt [Bad Axe frontman and future slaughter guitarist] Dana Strumm was up to something. Sure enough, David knew Bad Axe was auditioning or already rehearsing with other guitar players. By then I was living in Hollywood and David asked me to go to SIR and check it out. So I made a surprise visit. That was is it for David with Bad Axe.

David and I had never played in the same band in Texas . In September 1980 we go[t] together. I think David originally pictured Bitch to be an all male band. I don't remember how the direction changed to female. I think we first ran an ad for a female guitarist. We did find someone but I can't remember her name but she was really good. Then we put out the ads for a singer. I think it came down to both Betsy and the guitarist[, who both] made it clear they wanted to be the one and only female in the band.

The ads [for a singer for Bitch] were in the Los Angeles Recycler newspaper. [Note: Betsy says that they were in the Music Connection.]

"Live for the Whip" was the first song written for Bitch. David had loosely written it. We hammered out the final result in my Hollywood ap[artment] bedroom with a mini version of my drum kit and a rehearsal amp.

By October of 1980 we had our first complete line up. On 02/18/81 we released the first demo. I found the tape but I have to play it to find out what the songs are besides "Live For the Whip." [Note: all othe correct informaton about the demo is in the Bitch discogprahy now.] It was played on the Sunday night local music shows on KMET, KWST, and KLOS.

To be continued...


PART 2
Betsybitch.com: What were the recording dates and studios, exact release dates, and serial # details for all the Bitch albums?
a. Damnation Alley EP

MBR1002, recorded January/February 1982
released April 1982, Hit City West, Los Angeles
and Backroom Recorders, Sherman Oaks

b. Be My Slave LP

MBR1007, recorded May/June 1983, released
July????, 1983, Track Rcords, Hollywood , CA

c. The Bitch is Back LP/CD

Enigma/Metal Blade ST73256, recorded Dec.86
- Feb.1987???, Released May 1987??? Stagg Street Studios,
Vany Nuys, Preferred Sound, Woodland Hills, Track Record

d. Betsy LP/CD

Enigma/Metal Blade D1-73318, recorded Dec.87 and Jan.'88
released May 1988????, Sound City and Goodnight L.A. Van Nuys

e. A Rose By Any Other Name CD

Enigma/Metal Blade 7 73418-2, recorded March 1989,
released ??1989, at Track Studios mixed at Preferred Sound

f. Be My Slave/Damnation Alley CD reissue
I don't know

Betsybitch.com: Fill in details on appearances on other recordings:
a. Metal Massacre 1
"Live For The Whip" from 4 song demo
b. Metal Massacre 3
"Riding in Thunder" from Be My Slave LP

c. The Sound of Hollywood Girls and Bitch/Hellion split 45
"I'm In Love" Recorded at Mystic Studios for Mystic Records Hollywood; dates ??

Did Bitch have any DVD/video appearances?
"Be My Slave" and "Leatherbound" [were] videotaped in Reseda CA, [in] July 1983 for Eye Music which was a local show on the cable system that was in the West San Fernando Valley at that time.
"Never Get Out (of This Love Alive)" and "Turn You Inside Out" filmed at a sound stage in Hollywood Spring 1988. "Never Get Out" was shown on Headbanger's Ball several times in the Summer of 1988.

Are there any non-LP recordings unavailable elsewhere?
There are a few other songs that were recorded but never released. Many of the songs that were never released were not written by Bitch members and being recorded on spec basis.

Did you record a demo prior to Damnation Alley? If so when/where was it recorded and what songs were on it?
[A] 4 song demo was recorded at a home studio in Studio City. Also, on that demo was different version of "Never Come Home". "You're On Your Own" is a metal ballad that was never released. Lastly, there is a cover of "I Think We're Alone Now" which was never released (and for good reason).

Is "Walls of Love" (on the A Rose By any Other Name EP) part of a Bitch album that was recorded but never released, or was it just one song that was recorded by itself with the intent of recording the rest of the album later?
It was just one song that was recorded by itself. The only intent for the release of the Rose EP was to try to recoup as much money to pay for the shortcomings of the Betsy album which cost much more to produce than earlier releases - (producer, recording locations, and videos) Then the album was a disappointment sales wise to make matters worse.

Was Bet-Z supposed to be the title of this 1990 release, was it supposed to have another name, or did it ever have a name?
Bet-Z would have been the next album title. (I don't remember why) Bitch never recovered from the Betsy album. Metal audiences were shrinking while Grunge was taking over. Neither the band nor the label was ready for another Bitch release at that point.


How did the members of Bitch find out about the PMRC ordeal? Did you get word from Metal Blade, did you just see it on CNN by chance, or did something else happen?
I'm pretty sure Metal Blade told us. Prior to PMRC, were congressional hearings on C-SPAN about lyrics on metal labels. I think someone has a clip of a congressman reading the lyrics to "Gimme A Kiss" and then reading the lyrics to The Mentors' "Shit Tower". [Note: There is a complete summary of Bitch's appearances in the PMRC hearing in the entry for Be My Slave in the Bitch Discography.]


What are your memories of the '87-'89 wind-down period? Any particular memories regarding the recording or release of the last three Bitch/Betsy albums (the ones Ron Cordy as on)?
1987 was great. The Bitch is Back outsold every other previous release. We had just gotten out of a management deal from 1985 that was holding us back and we finally had a new release 4 years after Be My Slave.
1988 started great. We had a big name producer, recording at top notch studio, video on MTV. By the end of 1988 it was obvious that the album was not going to sell well barring any miracles.
1989 was a scramble to recover the losses and it all fell apart. Ron left the band and the endless march of bass players resumed.

Finally, where are you at in the recording of the new bitch album?
All the drum tracks are finished. It's going to be awhile to get all tracks done..