The End of the Classic Lineup of Bitch
The last album to be released by the classic Bitch lineup was the A Rose By Any Other Name EP in 1989. Contrary to popular belief, Bitch did not break up after this release. When the Nineties turned into the infamous anti-metal decade, Bitch wisely kept a low profile instead of going "industrial" or "nu-metal" as the trends dictated. The band continued to play shows sporadically through the 1990's and early 2000's. The members also contributed to some small-time side projects outside of Bitch, with David Carruth founding the more Nineties-friendly band Norman, and Betsy joining the all-female group Sister Strange.
At one point in 1999, Bitch was discussing releasing another album with Metal Blade Records. This ultimately turned out to be an unrealized project, but several songs were written and demo'ed for the album during this time with a five-piece line-up featuring Ed McCrary as second guitarist. The song "Infatuation" was one of the songs the band recorded in this period, and it appeared as a previously unreleased bonus track on Metal Blade Records' massive 20th Anniversary Box Set (2002).
The classic lineup of Bitch ended with the departure of founding guitar player David Carruth. The classic lineup played its final show on June 27, 2003, at the Bang Your Head Festival in Balingen, Germany, with a line-up of Betsy, David, Robby, and bass player Johnny Zell. That performance sent the classic Bitch out on top, with their first ever European appearance and their largest audience in attendance to date. One song from this performance, a version of "Live For the Whip" with a newly written pseudo-rap interlude, appeared in the 2-DVD set The Best of Bang Your Head Festival in 2006.
The Unusual Reformation of The Electric Prunes
As the classic lineup of Bitch was in its final years, another classic group from Los Angeles had come back together and were going strong. This band reformed with a vision to purposely turn the concept of the proverbial "oldies act" on its head, operating instead as though they were a young band establishing themselves for the first time. The band in question is The Electric Prunes, the garage/psychedelic/sixties punk band best known for the 1967 hit "I Had Too Much to Dream Last Night" and the Easy Rider (1969) soundtrack entries "Kyrie Eleison" and "Mardi Gras (When the Saints)."
Original band members Mark Tulin (bass), James Lowe (vocals), and Ken Williams (guitar) added some newer members and released two new studio albums, Artifact (1998) and California (2001), and a handful of live albums. In 2004, the band hired veteran touring guitarists Steve Kara and Jay Dean to fill out the band's guitar sound. The band has toured regularly throughout the United States, Canada, and Europe, released a third LP in 2006 entitled Feedback, and is currently working on a new album that is being produced by Billy Corgan of Smashing Pumpkins fame . (Note with the tragic passing of Electric Prunes co-founder Mark Tulin on February 26, 2011, the future of this project is now uncertain.)
Steve Kara and Jay Dean of The Electric Prunes:
The Two-Headed Guitar Monster

Steve Kara and Jay Dean with The Electric Prunes playing "I Happen To Love You" in 2008. Steve and Jay are standing to the far left and far right of the screen respectively. The song begins at 1:08.

The Electric Prunes' dual guitar players Steve Kara and Jay Dean are both guitar virtuosos with very different backgrounds. Hungarian-born Steve K. had worked on the final Timothy Leary album, and had a long history working with Jesus Music artists like Larry Norman and Darrell Mansfield. Jay grew up in LA, was childhood friends with Steve Lukather of Toto, and played in a popular LA club band called The Dirty Dogs, whose lineup featured Nate Winger (brother of Kip) and who recorded a demo with Winger/Ratt/Alice Cooper producer Beau Hill in 1989.

Steve Kara and Jay Dean found each other and noticed that when they got together to jam, they had an uncanny ability to create a massive, impenetrable wall of sound. When Steve K. was asked to join the reformed Electric Prunes, he asked to bring Jay with him, and this Two-Headed Guitar Monster has been a powerful weapon for the band ever since.

They would soon go on to be the twin guitar players for Bitch as well.
The Addition of Steve Gaines
of Abattoir, Bloodlust, and Anger As Art



The classic lineup of Bitch always had a rotating bass player issue, and Betsy has counted approximately eighteen bass players that have passed through over the band's history. When veteran metal performer Steve Gaines joined the group, the rotating bass player issue disappeared.
Steve Gaines is best known as vocalist of the eighties thrash metal bands Abattoir and Bloodlust, and is also frontman of the current metal band Anger As Art. Steve G. first met Bitch as an admiring young teenage fan, and ended up attending some of the band's early rehearsals. "I went to a rehearsal, and for the FIRST time, I saw how hard a band worked at rehearsal," Steve related in an email to the author. "They were drilling the songs, and drilling them hard….A week goes by, and I had become familiar with the[ir] song 'Riding In Thunder'….The next time I came to one of their rehearsals, Betsy wasn't there. Me, being arrogant, said, 'I can sing that song,' so I did. I thought I sounded pretty good, but as soon as it was done, Dave Carruth and [Robby Settles] just laid into me about how I wasn't trying very hard, that I should be singing full force at all times, not holding back. And it stuck with me—how hard I should be working on my craft at all times. It is a lesson that I live by 27 years later, and I have Bitch to thank for that."
The title track and album cover of Abattoir's Vicious Attack (1985), which played a role in the September 19, 1985 PMRC Hearing.
A short time later, Steve's band Abattoir was signed to Combat Records, and released the essential early speed metal classic Vicious Attack (1985). Vicious Attack came under the scrutiny of Tipper Gore's Parents Music Resource Center (PMRC). The album's cover and selected lyrics from the title track were featured in a slideshow presented at the famous PMRC Hearing that took place before the United States Senate on September 19, 1985, and featured testimony from Frank Zappa and Twisted Sister's Dee Snider. Steve G. then left Abattoir and joined the thrash metal band Bloodlust, and released the EP Terminal Velocity with them. Steve would then go on to be involved in a series of bands (including two with Jim Durkin of Dark Angel) before starting his current main band, Anger As Art, in 2003.
Steve G. first heard that Betsy was building the all-star lineup of Bitch from Bloodlust founder Earl Mendenhall in 2004. Initially, it was Mendenhall who was going to play bass in the band. When Mendenhall sustained an injury that kept him from filling the position, Steve G. offered to take his place. He has been with the band ever since.
The Formation of Bitch's ALL-STAR LINEUP Mark I

Electric Prunes guitarist Jay Dean was a high school classmate of Betsy's, and the two have remained in touch over the years. In early 2007 Betsy asked Jay to fill in on guitar for a new lineup of Bitch that she and Bitch co-founder Robby Settles were assembling. Initially Jay and another guitar player split guitar duties, but when this guitar player ended up leaving, Jay asked to bring fellow Electric Prunes guitarist Steve Kara on with him. "Steve had recommended that The Electric Prunes bring me on, and I wanted to do a favor for him in return," Jay told the author. The addition of Steve Kara and Jay Dean finished the lineup that would be the Bitch's All-Star Lineup Mark I.

The Bitch All-Star Line-Up Mark I consisted of:


Betsy Bitch: Vocals




Robby Settles: Drums
Steve Gaines (Abattoir, Bloodlust, Anger as Art): Bass


Steve Kara (Electric Prunes, Timothy Leary): Guitar


Jay Dean (Electric Prunes): Guitar




The Saga of the Steve Kara-Produced
All-Star Bitch Album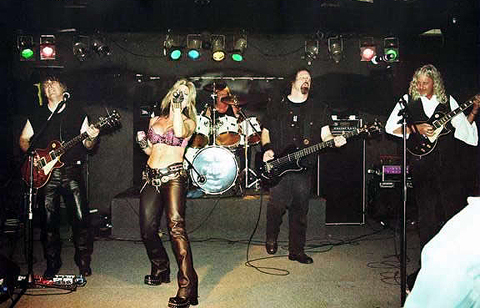 Bitch's All-Star Lineup Mark I at Paladino's in 2007: (L to R) Steve Kara (guitar), Betsy, Robby Settles (drums), Steve Gaines (bass), and Jay Dean (guitar).
According to Jay, the formation of Bitch was initially supposed to be for fun, but after shows at Paladino's and The Roxy in 2007, the band quickly became more ambitious, and began entertaineing the idea of recording a new Bitch release. The initial plan to record an EP snowballed into the more ambitious plan to record a new album. Steve Kara offered to produce this new project, and Robby Settles signed on to collaborate with Steve K. on it. In the meantime, The All-Star Lineup of Bitch continued to perform live locally in LA. The All-Star Line-Up of Bitch Mark I played their last live show in 2009 as the band shifted into being a studio entity.
Over the course of a little over a year, from 2008 to 2009, Robby traveled to Steve Kara's residence every weekend, and the two collaborated on writing and recording this new record. They ended up writing and recroding the guitar and drums parts for thirty-three tracks total. Apparently most of the actual recording on these tracks took place in the spring and summer of 2009, with the drum tracks being completed around May. Of the thirty-three tracks, fifteen were selected for inclusion on the album.
Initially, Steve Gaines was supposed to record bass lines for the album, but he did not feel that the playing on the album fit his style, so he chose to let Steve Kara record the bass tracks for the album. In early 2010, Jay Dean came in to record backing vocals and guitar solos. Betsy came in for one session on February 28, 2010 to record vocals. However, the process was slow and painstaking, and because of this, the All-Star Lineup Mark I began to show signs of disintegration.
During the time that the All-Star Bitch Album was being recorded, Betsy and Bitch received several good turns that kept things rolling while Steve K. and Robby were working in the studio. In September of 2008, Betsy joined 1980's Sunset Strip metal band Witch, replacing vocalist Peter Wabbit. Witch kept a busy schedule playing clubs in LA throughout most of 2009 and into 2010. In November 2008, Japanese melodic death metal band Shadow released the album Forever Chaos. The Japanese version of the album featured a cover of Bitch's "Damnation Alley" as a bonus track, and featured Betsy on lead vocals as a guest vocalist. Betsy was then interviewed for a VH1 documentary called VH1 Rock Docs: The Women of Sunset Strip; the documentary premiered on VH1 on April 3rd, 2009 at 11:00 pm Pacific Time. And finally, in May of 2009, Bitch fan and freelance writer David Gasten approached Betsy about the possibility of writing liner notes for the All-Star Bitch Album, which she and the band agreed to. Gasten conducted five months worth of investigative research on the group, after which the information he collected was developed into the unofficial fan site Betsybitch.com. Betsybitch.com went live with Betsy's approval in November of 2009.


Story continues on Bitch Biography Part 5: The All-Star Line-Up Mark II