ROBERT MITCHUM
Calypso – Is Like So... (1957)

Robert Mitchum: Calypso – Is Like So... Capitol Records, 1957. Produced by Lee Gilette. Sessions recorded February 18, 20, and 22, 1957, at Capitol Records Studios, Hollywood, CA, USA.
Album Review by David Gasten
Posted April 29, 2014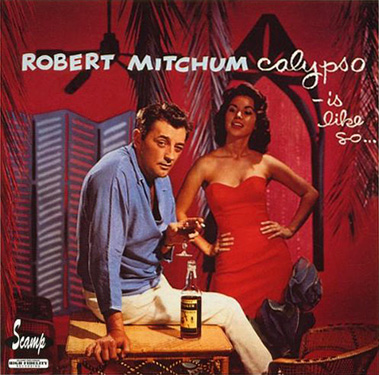 The cover of the 1995 Scamp Records CD reissue of Robert Mitchum's Calypso – Is Like So..., which features the original LP's artwork.
There have been numerous times in modern entertainment history when musicians have crossed over into being actors, and actors have crossed over into making music. There were times when this went over amazingly well, and there were other times when it was appallingly bad.  The "actors as singers" crossover trend in particular has gained a bad reputation over the years, with a number of celebrity albums achieving cult status because they fall into the "So bad it's good" unintentional comedy distinction. But this bad reputation isn't always justly earned, as there are other actors who have released albums that are fantastic and are even considered classics of the genre—see our One Shot Wonder Actresses article and our review of Sandy Warner's Fair and Warner (1962) LP for a few examples.
One "actor as singer" album that sounds like it should be a train wreck but is actually fantastic is by on-screen tough guy Robert Mitchum. It's his sole calypso album, and is entitled Calypso – Is Like So… The album was released by Capitol Records in 1957, and has become a favorite with Bachelor Pad Music aficionados over the years. 
Music was a talent that Mitchum had hiding up his sleeve. Mitchum was part of a musical family, and was a fan of many types of music.  He had a fantastic ear and memory for music, had written pieces for cabaret, and even wrote an oratorio that was performed by Orson Welles at the Hollywood Bowl as part of a benefit. He would employ his musical talents in film when the situation called for it, such as when he sang the gospel song "Leaning On the Everlasting Arms" in his portrayal of the villainous preacher in Night of the Hunter (1955).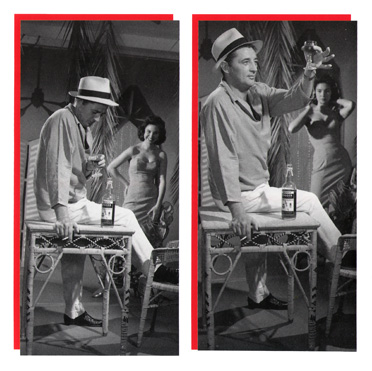 A couple of outtakes from the photo session which yielded the album art for Robert Mitchum's Calypso – Is Like So... Photos courtesy Bear Family Records.
Calypso – Is Like So… came about because Mitchum was scheduled to work on location in the West Indian island country of Trinidad and Tobago for two movies in a row in 1956.  Mitchum got to experience calypso firsthand there, and completely "got into" it. One night he observed the "calypsonian" phenomenon, where a calypso singer who would go from table to table at nightlife establishments, making up songs on the spot that would tell stories or interpret current events while a steel band followed after them. Mitchum apparently was a quick enough study that he was able to get up with the professional singers and make up lyrics alongside them.  Once back in the United States, Mitchum had a chance meeting with a Capitol Records executive where he demonstrated his new calypso skills, and, before he knew it, Capitol had him in the studio for three sessions that would become the album Calypso – Is Like So…

Capitol Records put Mitchum right in the middle of the American obsession with the tropics that was exploding in the latter half of the 1950's. It was a time when many American men were familiar with island life from having been stationed in the South Pacific during World War II; when Cuba was a popular Las Vegas-style getaway for Americans living in the eastern part of the country; and when the sudden explosion of disposable income for so many Americans meant that visiting the islands was a possibility within reach. The Calypso – Is Like So… album cover art would have taken Pacific Theater vets back to the days of being an off-duty serviceman lounging about at a night establishments, with native ladies sauntering up to them to dance and party. The cover art glows red like a tropical sunset, and Mitchum is posing with a glass and a bottle of booze, looking as though he is already a bit tipsy. The brunette model posing with him is dark-skinned, but looks as though she could pass for being a dark-skinned American girl moreso than an island girl, continuing the tradition of blending exotic fantasy with the familiarity of home that made Exotica and Tiki Culture the distinct, one-of-a-kind experience that it still is today.

The songs Calypso – Is Like So… are as much fun to listen to for their joyous music as they are for their clever stories.  The tracks on the album are covers of original Calypso tunes from artists like The Keskidee Trio, King Radio, The Mighty Sparrow, and The Roaring Lion. There is also a cover of "Matilda," which is probably the most famous of all calypso tunes. There are times when the lyrics sound so great that the phonetic sound of the words being sung become more powerful than the words themselves. They almost seem like a short "scat," except that the words actually mean something too (e.g. "I Learn A Merengue, Mama"). 
"Jean and Dinah" is the opening track on Robert Mitchum's Calypso – Is Like So... The original version was by calypso artist The Mighty Sparrow.
As far as the stories go, a full one-half of the songs tell stories of female hijinks being pulled on men, but they are presented in a way that gets both men and women laughing at the situations. For instance, "Jean and Diana" tells the story of an American military base in the West Indies that was closed down and took with it the lonely soldiers and their money, bringing to a close the native girls' gravy train of charging soldiers inflated prices for their company on the dance floor. There are story-songs that relate other situations as well. For instance, "Tic, Tic, Tic (The Lost Watch)" tells a story of a girl who steals a watch, and tittilates listeners as it leaves them with their dirty minds to guess where the girl hid the watch. (The watch ends up being in the girl's mouth.) "What Is This Generation Coming To?" discusses the teenage mayhem surrounding the explosion of rock and roll in the 1950's, and "Mama Look a Boo Boo" tells a funny story of a dad who can't rest in his own home because he's ugly and his kids are constantly laughing at him.
Between the entertaining stories in the West Indian accent, the fantastic and memorable hooks, and the jubilant party atmosphere in the music, the album never gets tiring to listen to. Hunt this one down—it's good time music that's excellent for any time a bit of fun is called for.
In addition to its initial LP release, Calypso – Is Like So… has seen a number of reissues over the years on vinyl and CD.  One of the CD releases is under the name That Man (Bear Family Records, 1995) and compiles the Calypso album, along with a non-LP single "The Ballad of Thunder Road" from 1958, and a country album Mitchum did in 1967 (also called That Man).