ONE SHOT WONDER ACTRESSES:
Five classic actresses who only released one album

by David Gasten
Uploaded November 1, 2013

FEATURING: Jane Russell, Diana Dors, Tina Louise (Ginger Grant of Gilligan's Island), Marie "The Body" McDonald, and Ilene Woods (Walt Disney's Cinderella).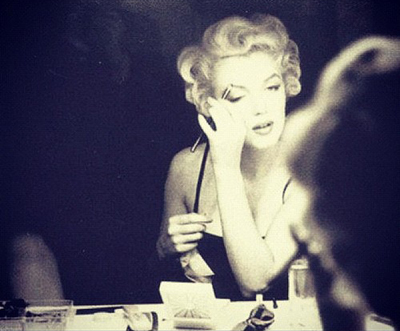 Marilyn Monroe applying makeup in the period where actresses were expected to master numerous talents. Marilyn's surviving recordings demonstrate her to a talented vocalist as well as a gifted actress.
Introduction

Back in the 1940's and 1950's, it was expected for professional glamour girls to develop numerous talents within their craft.  Within the movies, they had to be able to act, speak, sing, dance, pose, and entertain, so they would often be busy learning and mastering the tricks of all of these trades. For this reason, it was not that much of a jump for actresses to cross over into music and release albums as singers.
Although actors-as-singers would get a bad reputation (in many cases rightly so) thanks to compilations like Rhino's Golden Throats series, there were also plenty of albums by actors and actresses that were artistic successes.  In all the situations listed here, the actresses-as-recording-artists released one full length album that stands up well artistically, but would not record another one.
Having only one album to their names would count each of these actresses as a One Shot Wonder artist. The One Shot Wonder genre is a fascnating little subgenre within vocal jazz and orchestral music. It features singers, most of whom were young women in their late teens or early to mid-twenties, who recorded one album and maybe a handful of singles, and then went off to do other things, usually marry and start families. Some of these lady vocalists have become legends in the world of jazz due to the high quality of that one album; examples include Charlene Bartley, Gail Robbins, Jill Corey, Patricia Scot, and Carole Creveling. In the case of most of the actresses featured in our list, it appears that what kept them One Shot Wonders was that they were busy acting or working on other projects, and just never got around to recording another album.

Let's start with a gal you're probably already familiar with, actress Jane Russell.

Jane Russell: Jane Russell (MGM, 1958)

Jane Russell is a success story of a woman whose inner strength and faith in Someone bigger than herself allowed her to overcome a rather extreme degree of sexualization and the taxation of the soul that that brings.  To this day, her hand prints are in the concrete at Grauman's Chinese Theater in Hollywood next to Marilyn Monroe's. This was done as publicity for Gentleman Prefer Blondes (1953), where she appears as Marilyn's brunette sidekick.
Jane released numerous non-LP singles, many of which were released in conjunction with the movies she was in. She was also part of a ladies' vocal group that sang gospel songs, a number of which were hits. Jane also has an album of eight songs on four 78 rpm discs from 1947 (before the long-play record era) entitled Let's Put Out the Lights. But despite this flurry of recording activity, she only had one full-length, 12" LP release as a solo artist. That lone LP, entitled Jane Russell, was released by MGM Records in 1958, and features soothing and slightly abstract arrangements from arrangers like Billy May that bring the softness out of this no-nonsense broad. Her version of "Born to Be Blue" is one of my favorites on the album:

| | | |
| --- | --- | --- |
| | | |
| | Jane Russell's version of the standard "Born to Be Blue." | |

We created a YouTube playlist that contains all of the tracks on the album; you can listen to it here.  The album available as part of a 2009 compilation from Sepia Records called Fine and Dandy. There is also a really nice Japanese mini-LP CD version that is lifted from an excellent quality LP transfer that you can get from Amazon.com.
Diana Dors: Swingin' Dors (Pye Records [UK], 1960)

Diana Dors is generally remembered as the UK's answer to Marilyn Monroe. However, she had a much longer and more varied career than Marilyn in her native UK.  Although Diana performed in numerous bombshell roles, she also performed in comedy, horror, film noir, and daytime television. She had her own TV variety show—twice; she performed on the cabaret circuit; and she even appeared in a music video by UK glam rock artist Adam Ant that was played regularly in MTV.
Diana regularly sang on stage and on TV, and released a number of non-LP singles, but she only released one full-length album in her lifetime.  The album is entitled Swingin' Dors and was released on Pye Records in the UK in 1960.
Diana's voice is one that is easy to pick out amongst the crowd.  There is a metallic and somewhat airy quality to her voice, not to mention a cheery, confident, and infectious joie de vivre that is a delight to listen to. Swingin' Dors is available in its entirety on Spotify and also on CD from Amazon.com. This is "Roller Coaster Blues", which is the most suggestive song on the album; the rest of the album stays with more typical love and relationship themes:
| | | |
| --- | --- | --- |
| | | |
| | Diana Dors sings "Roller Coaster Blues." | |
Tina Louise: It's Time For Tina (Concert Hall Recordings, 1957)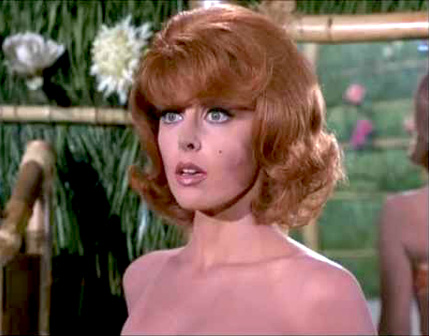 A still frame of Tina Louise as Ginger Grant in Gilligan's Island.
Tina Louise is best known to the world as Ginger Grant of Gilligan's Island.  Prior to her work in Gilligan's Island, she appeared on Broadway and in numerous TV shows and feature films.  Her only LP, It's Time For Tina (1957), was released by the classical hi-fi label Concert Hall Recordings, who also dabbled in jazz and pop. 

It's Time For Tina is a theme album about a night of romance with Tina, starting with Tina looking forward to the date, and ending with her bidding her date good night. The album is VERY sultry late night jazz that finds Tina practically whispering her way through the entire album with a fantastic amount of vocal control. Jazz legend Coleman Hawkins backs her on saxophone, adding even more smokiness to a disarmingly sensuous album. It's about as close to being personally romanced by Ginger Grant as any of us will ever experience. Here's the opening track, "Tonight is the Night":  

| | | |
| --- | --- | --- |
| | | |
| | Tina Louise (aka Ginger of Gilligan's Island) coos her way through "Tonight Is the Night". | |

It's Time For Tina was released on CD by reissue label Oglio Records in the 1990's, but it is now out of print.

Marie McDonald: "The Body" Sings! (RCA Victor, 1957)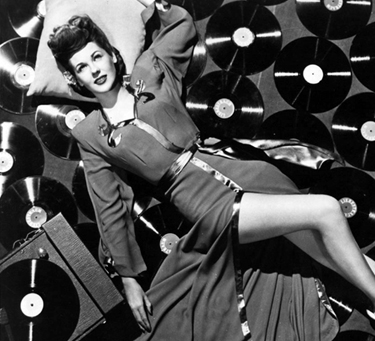 Marie "The Body" McDonald lies on a bed of records in this publicity still.
Marie McDonald is best known by her nickname "The Body". She had a very up-and-down career as an actress throughout the 1940's and 1950's, appearing alongside Jerry Lewis in The Geisha Boy (1958), Gene Kelly in Living in a Big Way (1947), and Jayne Mansfield in Promises, Promises (1963) to name a few. During World War II, she was one of the most successful chessecake models with the American soldiers, and at the height of her career was receiving 100,000 fan letters a week.
During a down period in the late 1950's, Marie started a successful nightclub act that got her signed with RCA Victor, who released her only LP, "The Body" Sings!, in 1957. Despite being known as an actress and model, she actually received her initial notoriety as a singer. In fact, she received an important early break in 1941 from big band leader Tommy Dorsey, who invited her to sing with his band on the radio.  Marie's album echoes back strongly to the big band era, and features mostly ballads that sound like the big band style being brought forward into a 1950's orchestral setting.  The album has received a now out-of-print Japanese CD release from BMG, and the elusive LP Time Records label in Spain has given it a mini-LP CD release. Here's "Don't Blame Me" from "The Body" Sings!:
| | | |
| --- | --- | --- |
| | | |
| | Marie McDonald singing "Don't Blame Me." | |
Ilene Woods: It's Late (Jubliee Records, 1957)

Ilene Woods is probably the least recognized but most heard of all the actresses here—you know her as the voice of Cinderella in Walt Disney's Cinderella (1950). Although she retired from show business soon after appearing in Cinderella to become a full-time mother, she did come out of retirement briefly to record one LP with New York-based Jubliee Records in 1957. The album is entitled It's Late.
As you can guess from the title and the album cover, It's Late is a sultry, romantic late-night jazz album. In fact, both Ilene's voice and the vibe of the album are quite similar to Tina Louise's It's Time for Tina, except that Ilene's voice is not quite as breathy as Tina's and the songs stay a little more uptempo. The arrangements make use of a small orchestra and lots of flute, and have a very atmospheric 1950's sensibility that takes you right back to the period. They don't make 'em like this anymore.
My favorite song by far is "Estrellita", which features Ilene singing very sensual, wordless "Ooo" vocals through most of it. Here it is:
Ilene Woods of Cinderella fame "Ooo"'s her way through most of
" Estrellita."

As of right now, It's Late is available as a digital release on iTunes, and as a streaming entity on Spotify, but only outside of the United States. However, it is available as a mini-LP CD from LP Time Records, which you can buy from Amazon.com.
Important note: Avoid buying the Japanese reissue of It's Late from EMI Japan. This edition is cheaper than the LP Time version, yes, but it is disastrously unlistenable on two levels. First, it's taken from a low quality vinyl rip with distorted high range that is full of noticable surface noise. Secondly, this low-quality vinyl rip is taken from a tinny low-bitrate digital file that further distorts the sound to the point that all you can hear is the low quality of the transfer.

So here you have it folks: five great actresses who each released one great album. And there is more where this came from: check out our reviews of silver screen tough guy Robert Mitchum's fantastic calypso album Calypso – Is Like So… (1957) and exotica cover model and actress Sandy Warner's album Steve Allen Presents Sandy Warner: Fair and Warner (1962). Yet more proof that albums by actors don't have to be bad.