SANDY WARNER
Steve Allen Presents Sandy Warner:
Fair and Warner (1962)

Album review by David Gasten
Posted April 25, 2014
Sandy Warner: Steve Allen Presents Sandy Warner: Fair and Warner (1962). Tops L 1733 (mono) / Mayfair 9733 S (stereo). Reissued on mini-LP CD by LP Time Records (Spain) LPT-1175, 2012. Recording and production details currently unknown.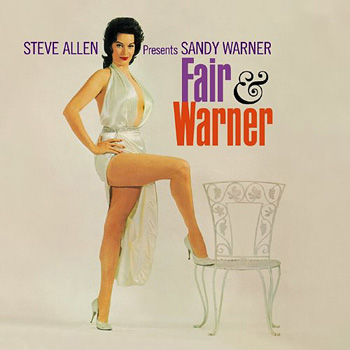 Well! Here's an LP cover that will stop traffic.  Model and actress Sandy Warner is best known today as "The Exotica Girl" due to her modeling work for the covers of fourteen Martin Denny albums, including Exotica (1957), the one that gave the Exotica music genre its name. She also modeled for Bob Thompson's go-to bachelor pad album Mmm, Nice! (1959), and has an uncanny knack for showing up on other album covers from the period unexpectedly. Sometimes different photos from the same photo session will show up on completely different albums; there's four incidents of this that I know of, and there may be more.

Sandy is also an actress that showed up in TV shows like The Twilight Zone, The Untouchables, Bonanza, and The Thin Man to name a few.  She is also one of the members of Sweet Sue and Her Society Syncopators in the Marilyn Monroe comedy Some Like it Hot (1958).  And that's her body flanked by Jack Lemmon and Tony Curtis that you see in some of the publicity shots for Some Like It Hot—with Marilyn's head brushed over hers.  Marilyn was pregnant at the time the publicity shots were taken, which is why they used Sandy as her stand-in.
Sandy had yet another talent—as a vocalist. She was in a nightclub act with her twin sister Sonia in the 1950's, and also appeared on The Steve Allen Show on December 14, 1959 to sing "All I Want For Christmas is Your Love".  Three years later in 1962, Steve Allen lent his name to the title of Sandy's only LP, Steve Allen Presents Sandy Warner: Fair and Warner. Fair and Warner was released on the Tops/Mayfair label, and features Martin Denny, whom Sandy had done so many album covers for, supporting her by providing the album's back cover notes in a little twist of roles.

She's got the apartment, but she hasn't got him! You can almost hear the pout in Sandy Warner's voice as she sings those words in the song "But I Haven't Got Him", from her only LP Steve Allen Presents Sandy Warner: Fair and Warner (1962). The track appears on YouTube thanks to its inclusion on a 1996 Bachelor Pad compilation entitled A Night at My Pad.
Listening to this gem, you can't help help but wish there was more music from Sandy. The songs on Fair and Warner cover a lot of ground; it's obvious that this is a deliberate move to demonstrate Sandy's versatility.  Sandy sings songs about carefree happiness ("Sunshine Face"), mystery ("The Girl With the Long Black Hair"), sensual romance ("In the Afternoon"), jovial romance ("Crazy Kisses"), boredom with everyday work ("Every Dog Has Its Day"), and unrequited relationships ("Forbidden Love"). She gives each song a unique characterization with her one-of-a-kind, you-know-it-when-you-hear-it voice.

And oh my, what a voice.  It's a glamorous "woman's voice" (as opposed to a "girl's voice") that suggests a sensual lady who is not only stunningly beautiful, but is smart, quick-witted, and could engage you in some lively, spirited conversation after the show. It's also a midrange "body voice" that has boldness and power, but not overwhelmingly so.  There is a built-in moan in her voice that makes practically every note she sings just drip with sensuality. You never lose sight of the fact that an alluring woman's voluptuous presence is in the vicinity.

My favorite track on this album is the opener, "In the Afternoon", which sets a sensual mood that weaves through the rest of the album.  It's a song about a long, lazy romantic interlude in the middle of the day with someone you love, and ends with Sandy heaving a heavy, starry-eyed "Hmmmm" of a sigh, like a lady might give when she has found her "home" in a man's arms. My second favorite is "But I Haven't Got Him", which sounds like it's about a gal who fell in love with a wealthy man who supported her and then left her soon afterward. Having all this wealth but having lost the man she loves leaves her feeling lost and empty.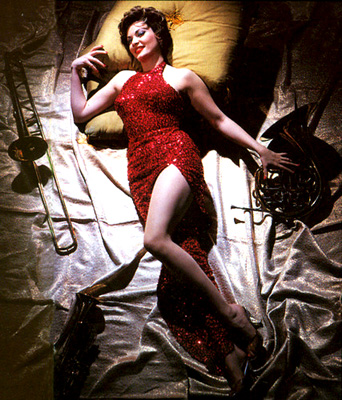 An outtake from the modeling session Sandy did for the cover of George Shearing's LP Burnished Brass (1958). This photo showed up in the compilation album Bachelor Pad Royale (1996), which is part of Capitol Records' Ultra Lounge series.
But these are by no means standout tracks, as each one is fantastic and has its own personality.  There is the heart-render "Forbidden Love," about two people who have a mutual infatuation for each other but are married to other people, and decide to take the high road and break contact with one another. Sandy was married when this album was recorded, so it's possible that this song may have meant something to her personally, as she really sings it with her entire being. "Every Dog Has Its Day" is about a secretary who lives a humdrum life filing papers and typing letters, and dreams of having a more adventurous life. Sandy personalizes it to make it sound like a rather crass broad in glasses and a frumpy brown ladies' suit, which is almost the exact opposite of the subject's exotic Mata Hari fantasies (which she pronounces like "Matta Harry"—ha!). "The Mambo, Tango, Samba, Calypso Cha-Cha Blues" is about a gal who is giving up on dancing because it's too hard to keep up with and it's too taxing on her body.  The song has a dragging but sensual "bump" to it that suggests that this may be her last dance of the evening, but that there may be some more lovin's to be had afterward for the lucky gentleman she is dancing with.
One of this album's interesting features is that not one of the songs is a standard or well-known song. Most other albums by 1950's/60's lady jazz vocalists feature songs that were well-known at the time, but this one chooses all obscure songs by unknown and uncredited authors. With Tops being a budget label, it's fair to assume that this route was chosen to keep costs down, but in retrospect it results in a set of songs that sound as though they were written especially for Sandy. Because the songs on this album are so obscure, it makes it sound as though this is an album of all original material—and, in a way, it is.
The last Martin Denny album cover Sandy posed for was 1965's Spanish Village, and she acted in TV shows until 1967. It appears that she retired sometime after this to raise a family.  It's so fortunate that we have this recording session from her, as is gives us a better look at the personality behind the pretty face.  The album is rather tough to find, but it is available as a mini-LP CD from the elusive Spanish label LP Time Records; you can buy this CD reissue from Amazon.com. The original LP pops up on eBay, Musicstack, and GEMM from time to time; $20-25 seems to be a fair price for it.