An Introduction to LOUIS PRIMA
By David Gasten

Louis Prima performing "Just a Gigolo/I Ain't Got Nobody" on the Ed Sullivan Show in 1959 with Keely Smith, Sam Butera, and The Witnesses.
LOUIS PRIMA—the man, the legend. When it comes to modern-day attempts at doing swing, Louis Prima is probably more imitated and looked up to than any other jump blues performer, and that includes Louis Jordan. He is oft imitated, but rarely (if ever) equaled, even to this day.
Why do people love him so much? Because he's wild, intense, over-the-top, colorful, fun, and compellingly convincing—you have no choice but to take his act seriously. And because Louis Prima made what was by far the most intense "adult contemporary" music of his period, to the point that it sounds a little like rock and roll (complete with the mixture of white and black influences), Louis Prima's music connects well with modern-day audiences.
Almost everyone into Vintage music has heard "Just a Gigolo/I Ain't Got Nobody" and "Jump, Jive, and Wail", two songs from The Wildest! (1956), Louis Prima's debut LP for Capitol Records. And almost everyone period has heard "Sing, Sing, Sing"—Prima wrote that song. The latter was Prima's biggest pop culture breakthrough from his swing/big band period, although it was Benny Goodman who made the song famous.
But why do people have such a hard time bringing the Louis Prima sound forward, while they have no problem doing a lounge act imitation of Frank "Ol' Blue Eyes" Sinatra? There's a lot of reasons, but I think what it comes down to is that few people really do their research and examine the elements that make up the Louis Prima act.
Big Band-Era Louis Prima—A Far Cry From the Prima We Know Today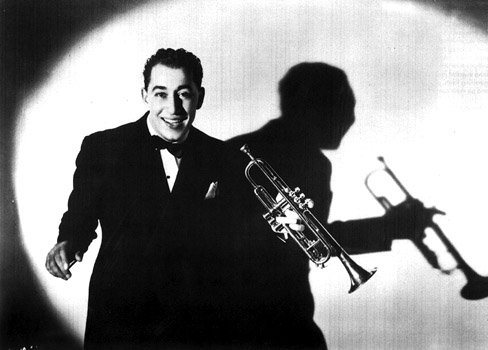 A young Louis Prima during his big band period.
Louis Prima was originally from New Orleans and initially worked locally in his teens and early twenties when New Orleans jazz was having its heyday. Interestingly, his first break came from none other than the biggest White Bread performer of the Big Band Era, Guy Lombardo, who heard Prima's playing and brought him to New York. Prima was signed to Brunswick Records soon after and released his first record for them in 1934. For nineteen years, Prima stayed busy as one of big band's second-tier performers, playing and recording constantly, appearing in a handful of movies and short subjects, and producing a string of hits like "Angelina", "Josephina, Please No Leana (On the Bell)", "Robin Hood", "Oh, Babe!", and "Civilization (Bongo, Bongo, Bongo)". Brunswick, Vocalion, Varsity, Decca, Okeh, Majestic, RCA Victor, Mercury, and Columbia, pretty much a who's who of the major labels of the time, released his recordings from this initial period.
As mentioned, a Prima record from 1936, "Sing, Sing, Sing", would be covered by Benny Goodman and would become the most famous big band song of all time alongside Glenn Miller's "In the Mood". As television came into American households in the 1950's, Prima would appear on the Ed Sullivan Show twice (in 1949 and 1950) backed with his mighty big band, and he would continue to keep his big band into the early 1950's after most big bands had gone by the wayside. His sound was spirited, black-sounding (although Prima was full-blooded Italian), and slightly more abrasive than most of his big band counterparts, although it was a far cry from the Prima sound most of us are familiar with today.
Prima had kept a youthful appearance well into his early forties, and was popular with a young audience, being mobbed by teenage fans and lady admirers up to that point. However, it was during his stints with Columbia (1952-1953) and Decca (a brief, unsuccessful, two-single stint in 1954) that has-been status started to affect Prima. He was one of the first "has-been" performers to retreat to Las Vegas, where he began working the ballrooms in the (at that time) growing "anything goes" oasis in the sand. His famous "odd couple" singing partner, Keely Smith, was wife #4, 21 years his junior, and had been working with him since 1947. She stayed with Prima as he continued to work in Vegas. Prima was too broke to retire, but considering doing it anyway, little knowing that he was about to make a comeback that would be bigger and longer lasting in pop culture's memory than his entire previous career.
Sam Butera: The Secret Ingredient to the Louis Prima Sound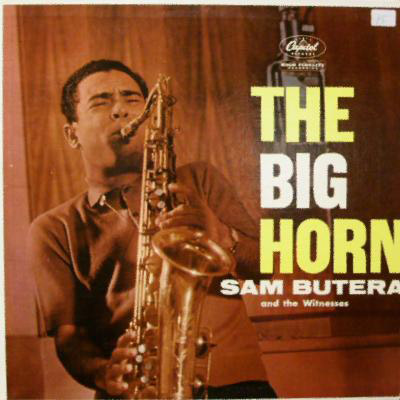 A detail from Sam Butera's LP The Big Horn (1958), an all-instrumental LP that he recorded with The Witnesses but without Louis Prima. The album is available on CD as a Japanese import and also as part of the Bear Family box set Louis Prima, Keely Smith, and Sam Butera: The Complete Capitol Recordings.
Enter sax man Sam Butera. It is a little known but extremely important fact that Sam Butera is the true originator of the Louis Prima sound that we know and love today. In fact, to understand the "Wildest" sound of Louis Prima is to first understand the sound of Sam Butera. Although by all accounts and appearances Louis Prima maintained his position as the leader of the gang, it was Sam Butera who rearranged all of Prima's material into the famous sound we all know and love in "Jump, Jive and Wail" and "Just a Gigolo/I Ain't Got Nobody". This new sound was built around Prima's New Orleans-grown personality, but the dirty secret is that this sound is really about two-thirds Sam Butera.
Sam Butera was seventeen years younger than Prima, and in the mid-1950's was working in New Orleans at a venue run by Prima's older brother Leon Prima. Butera was signed to RCA and released a handful of singles for them, all of which are available on the Bear Family compilation Hot New Orleans Nights. Butera's music was a gritty New Orleans-style take on small-band jump blues that held its own with all the intense jump blues of that period. What differentiated Sam Butera's music from the emerging rock and roll hybrid was that although it contained the same youthful subject matter and intensity, it always remained rooted in a strong, distinct shuffle beat that early rock and roll (and later rock music) would completely stray from. The shuffle beat, followed by the swing beat, are the two rhythms that define swing music and make it so irresistibly danceable, and Sam Butera's music would remain firmly rooted in the shuffle long after all of Sam's contemporaries had abandoned it.
Sam Butera and his small jump blues band The Witnesses became Louis and Keely's backup band on December 26, 1954, and soon after this, Capitol Records signed them. The first Capitol LP, The Wildest!, came out in 1956 and featured the immortal "Just a Gigolo/I Ain't Got Nobody" and "Jump, Jive, and Wail", along with other lesser-known but equally great tracks like: "Nothing's Too Good for My Baby"; "The Lip"; "Oh Marie"; and my personal favorite, a cover of Louis Armstrong's vengeful "I'll Be Glad When You're Dead, You Rascal You". Prima had hoped that Butera's radical jump blues reinvention of his sound would endear him to the younger set that was buying into the new rock and roll craze, but instead it made him a massive hit as the most intense of the adult contemporary performers of his period.
Louis Prima and The Gang on Capitol and Dot Records


From 1956 to 1959, Capitol would release three Louis Prima studio LP's, three orchestral Keely Smith solo LP's, two Sam Butera solo LP's, two Louis and Keely live LP's, and one Louis and Keely movie soundtrack LP. The band made a brief appearance in a Columbia film starring lady jazz vocalist Jill Corey entitled Senior Prom (1958); after this, Columbia starred Louis, Keely, Sam, and the Witnesses in a movie of their own called Hey Boy! Hey Girl! (1959). The band made even more television appearances (including more appearances on the Ed Sullivan Show), became Las Vegas' top-drawing live act, and won The Grammies' "Best Song" Award for 1959 with the Louis and Keely duet "That Old Black Magic". The material from this period is consistently top-notch; I really don't think they recorded a bad song for this entire run.
In 1959, Prima and the gang left Capitol for a two-and-a-half year stint with Dot Records. This was an odd move for an intense group that was trying to capture the interest of a young audience, as Dot was a label that specialized in nostalgia-oriented adult acts and whose biggest selling act was Lawrence Welk. The group was even busier as recording artists at Dot, releasing a total of nine albums under the Louis Prima name in that short time span, as wel as three Sam Butera albums, one of which was a soundtrack to the Tony Curtis and Debbie Reynolds film The Rat Race (1960).
Exit Keely Smith; Enter Gia Maione

It was during the Dot period that Louis and Keely split on bad terms both personally and professionally. Sadly, the jabbing and insulting and the odd-fit contrast that was the trademark of Louis and Keely's stage show was a reflection of a more grim reality. Both Louis and Keely were having affairs on each other. Keely was unhappy in a marriage with a philandering man old enough to be her father. Louis was already a long-running ladies' man whose inability to keep money stemmed from the fact that much of his money went to alimony and child support from many a previous affair and three previous marriages. To make matters worse, Louis was physically abusive of Keely. The divorce was finalized in 1961, and Keely stayed with Dot, while Louis returned to Capitol with Sam and the Witnesses in tow.
Capitol welcomed Louis and the band back with open arms and the band would stay with Capitol for another year. During this period, Louis hired (and married) a new lady vocalist named Gia Maione (Maione is pronounced like "My Own"). Gia was previously a devoted teenage Prima fan who spent her time with Louis Prima's records while others her age were digging rock and roll records. And contrary to some reports, there was no attempt to mold Gia into another Keely, but rather, Gia became a lively, youthful, and much easier-going leading lady in the new Louis and Sam stage show.
As a performer, Gia was very much the opposite of Keely Smith on many levels. Whereas Keely was aloof and deadpan (and frankly looks like a black hole in her television appearances with Louis), Gia was bouncy and jovial and looks a little more like a natural part of Prima's act. Keely's voice is warm, rich and vibrant, so more suitable for serious music; Gia's is slightly twee and comic, so more suitable for funny, happy music. Keely's onstage relationship with Louis was cat-like in that she was independent and only went to Louis for affection when she felt like it; she would then withdraw and even be slightly mean. Gia's onstage relationship with Louis was dog-like in that he absolutely adored Louis and seemed to love life as Louis' leading lady. Even though Gia was even younger than Keely to the point where she was actually young enough to be Louis' grandchild, apparently age really didn't matter in this May-December relationship. Louis seemed to have finally found his match, and apparently remained faithful and devoted to Gia for the rest of his life after years as a notorious philanderer.
At the Top of Their Game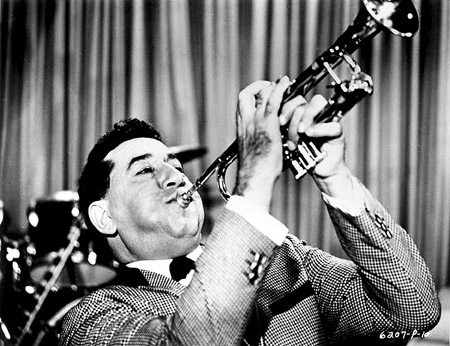 Louis Prima in a still from the American-International film Twist All Night (1962, aka The Continental Twist).

Another little known fact is that although Prima and the gang's best-known music is from the first Capitol period (1956-1959), they would be at the top to their game artistically and release their best material when they returned to Capitol in 1961-1962. Louis, Sam and the Witnesses would release one studio LP, The Wildest Comes Home! (1962), which topped all their previous albums for sheer intensity. Then when Gia came on with Prima's group, the band released maybe the hottest and best album of their entire career, the amazing Lake Tahoe Prima Style (1962). Unfortunately the only song most people will be able to hear from this album is "Scuba Diver", which has made the Louis Prima/Keely Smith compilation CD in the Ultra Lounge series; the rest of the album is only available on CD a part of an expensive, eight-CD Bear Family box set. I can't stress enough how much Lake Tahoe Prima Style is worth seeking out; find it if you can!
Prima and the gang would also appear in a 1962 American International film entitled The Continental Twist(aka Twist All Night), which co-starred blonde bombshell June Wilkinson as Prima's girlfriend. (American International were the folks who gave us the Frankie Avalon and Annette Funicello "Beach Party" movies and Roger Corman's Edgar Allan Poe-themed horror films starring Vincent Price, Boris Karloff and Peter Lorre.) There would also be a Continental Twist soundtrack LP that would contain mostly Sam Butera solo material.
Exit Capitol; Prima as a Free Agent

Tragedy would strike again when The Beatles became a massive sensation for Capitol. The interest in The Beatles was so strong that Capitol lost interest in and dropped many of their adult-oriented acts, including Prima. At this point, Prima was enough of a draw on his own that he began releasing LP's on his own independent Prima One Magnagroove imprint, and sold them mostly at shows, although there were occasional one-off recordings for other labels.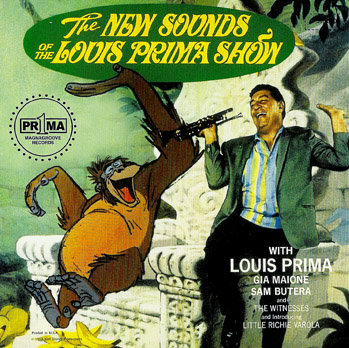 Prima's LP The New Sounds of the Louis Prima Show (1969), featuring Prima with the King Louie character from Walt Disney's The Jungle Book (1967). The King Louie character was drawn to move and act like Prima, and Prima voiced the character as well. Prima recorded a new version of King Louie's song "I Wanna Be Like You" for this LP. (Note: Louis Prima's estate has rereleased this album on CD and on MP3.)
In 1965-1967 Prima was involved briefly with Walt Disney, releasing a Mary Poppins-themed LP and a Robin Hood-themed LP for them, and recording the Winnie-the-Pooh theme for one of their children's albums. Then would come his most famous movie appearance of all time, as the voice of King Louie in The Jungle Book (1967). The character of King Louie was completely drawn off of Louis Prima, and Prima's portion of The Jungle Book is considered by many to be the very best part of that movie. Prima sang the song "I Wanna Be Like You" for the film, which is probably even more famous and widely recognized than anything he had done even before this.
Meanwhile, Louis, Gia, Sam and the Witnesses continued to be a live draw in Las Vegas, and continued to release independent LP's on Prima One Magnagroove that were largely available at their shows. Prima continued to invite young members into the band, Sam continued as the bandleader and music director, and Gia continued to work as Prima's lady sidesick. The band's music actually went into a mixture of styles, including full-on, heavy funk covers that you would never guess would be coming from Louis Prima. Prima's own style within the band started to sound rather old and rickety, but the young members, whom he relied on more and more, kept the band hot and rocking.
Prima's final hit would be a small regional hit in New Orleans. It was a song called "I'm Leaving You", a tear-inducing swan song that was released in 1975 just as Prima went into surgery for a brain tumor. The surgery left him in a coma, which he would remain in for three years. He died on August 24, 1978 at the age of 67.