A Brief Introduction to SAM BUTERA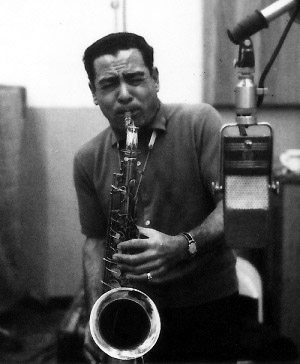 The late, great Sam Butera honking away at one of Louis Prima's recording sessions.
Sam Butera was best known as the saxophone player in Louis Prima's band The Witnesses and, later on, as one of the mainstay lounge acts in Las Vegas. He is also the secret weapon that made Louis Prima the most intense of the lounge/adult contemporary acts of the late 1950's and early 1960's. It is a little-known fact that Prima's music with the Witnesses was actually arranged by Sam Butera. Sam recorded many albums and singles with the Witnesses minus Louis Prima, and these tracks actually distill the intense Prima sound down even further.

When Sam fronted The Witnesses by himself, the music got even more intensified and younger (if not straight-up teenage) in feel. The Sam Butera and the Witnesses material was essentially a whole alternate avenue that jump blues and rock and roll could have traveled down but didn't. This alternate route retained the danceable swing and shuffle beats that Rock Music would eventually render a lost art. However, thanks to the music of Louis Prima, it does continue to have an underhanded influence on music, especially Vintage-style music.
We'll get you started on Sam's music with one of the classics: "Bim Bam", from 1958. "Bim Bam" was originally released as a non-LP single by Capitol Records, with "Twinkle in Your Eye" as its B-side.
Sam Butera "Bim Bam" (1958)