Preorder your copy of the Deluxe Mini-LP CD on PayPal or on GoFundMe.

Hot on the heels of the Spotify hit This is Vintage Now Vol. 1 comes This is Vintage Now Vol. 2: Happiness is a Way of Life. Featuring thirteen artists from six different countries, This is Vintage Now Vol. 2 is an Instant Vacation, ready to take you poolside to a mid century resort far away.The album will feautre legacy artists such as exotica legend Robert Drasnin and veteran jazz vocalist Sue Raney, along with some of the best and authentic-sounding Vintage artists of our day. It is being mastered by Bill Metoyer, one of Los Angeles' best veteran audio engineers. And it is coming soon as a Deluxe Mini-LP CD.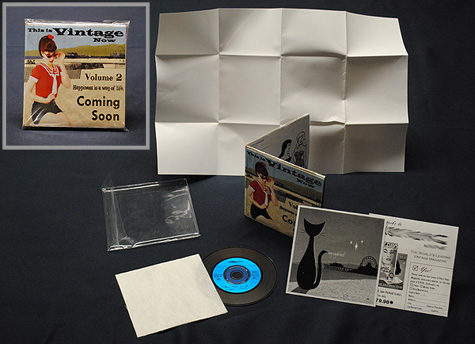 A preview of the Deluxe Mini LP CD release of This is Vintage Now Vol. 2: Happiness is a Way of Life. Preorder your copy via Paypal or GoFundMe.
The Mini-LP CD is a physical album format that has been popular in Japan for many years now.. The format features a Compact Disc packaged inside a miniature replica of an original vinyl LP. The makers of mini-LP CD's pay careful attention to detail, replicating the original packaging down to the construction and manufacturing style of the album. They use the original album art, liner notes, and fonts, and include any packaging extras that were in the original album, all to the same size and scale. Because the packaging is so close to the original vinyl, they are an intense album experience that is intoxicatingly engaging and nostalgic. Atop that, they feature no bulky, brittle packaging like regular CD's and digipaks do, and their slender size saves on shelf space.
For This is Vintage Now Vol. 2, we are taking the mini-LP CD concept and augmenting it even further. The jacket will be a gatefold (fold-out) record sleeve with an original illustration from reknowned comic and fantasy artist William Stout on the inside, and with artwork from mid-century artists Sam Gambino and Donna Mibus on the outside. The inserts will include a fold-out poster with pictures of the artists and detailed liner notes, as well as a frameable art print of Donna Mibus' back cover art. The CD itself will be printed to look like a baby LP, and will include two otherwise unavailable bonus tracks that have not been released on any other album, and will not be on the MP3/streaming edition of hte album. The CD will be housed in a soft cotton sleeve, and the entire package will be inside a resealable clear plastic outer sleeve to protect it from dust and wear.

This photo series shows what the Deluxe mini-LP CD edition of This is Vintage Now Vol. 2 will look like when it is opened up, starting with when it comes to you:

| | | |
| --- | --- | --- |
| | | The initial package, shown here inside its resealable plastic dust jacket. This art approximates what the cover will be like on the MP3/streaming edition. The actual art will be this same scene re-rendered by mid-century painter Sam Gambino, and it will only be available on the physical editions of the album. That's Polish model Paulie on the cover, with Santa Monica Pier in the background. |
| | | |
| --- | --- | --- |
| The back cover of the mini-LP CD, with the plastic just jacket opened and the mini-LP CD ready to be removed. The back cover illustration is by mid-century artist Donna Mibus—and yes, that's Santa Monica Pier in the background yet again. | | |
| | | |
| --- | --- | --- |
| | | The outer album jacket is a gatefold, which means that it opens up to reveal two more panels of artwork inside. The exact track details (personnel, recording dates, previous release info, etc.) will be listed here. The actual art will be an original illustration featuring This is Vintage Now cover models Paulie (Vol. 2) and Marcie (Vol. 1), drawn by veteran comic strip/fantasy artist William Stout. |
| | | |
| --- | --- | --- |
| Each side of the gatefold contains a pocket that holds the rest of the inserts, as well as the CD itself. | | |
| | | |
| --- | --- | --- |
| | | Here are the individual inserts removed from the album. In front is a frameable art print by Donna Mibus, and a beautiful Vintage-style advert for a fantastic Vintage resource that we are looking to partner with. Behind that is the CD with its soft cotton slip sleeve. In the very back to the left is a placeholder for what will be the 11" x 17" poster. It will feature pictures of the artists on the front, and info about them on the back. |
| | | |
| --- | --- | --- |
| Here are all of the components removed and spread out. The CD will include two otherwise-unavailable bonus tracks that will not be on the MP3/streaming version. The first is "Something Cool" by 1950's/60's jazz vocalist Sue Raney; it is an outtake from her 2011 album Listen Here. The second is an alternate version of "On the Sunny Side of the Street" by St. Louis based swing band Sarah Jane & the Blue Notes; it was recorded especially for this release. | | |
Preorder your copy of the Deluxe Mini-LP CD edition of This is Vintage Now Vol. 2: Happiness is a Way of Life via Paypal, or at our GoFundMe page (click either link to order). And be sure to listen to this sample track from the album, a song called "Womp" by Netherlands-based bachelor pad group Sunday Combo:
| | | |
| --- | --- | --- |
| | | |
| | Preview track by Sunday Combo from This is Vintage Now Vol. 2. Preorder your copy of the Deluxe Mini-LP CD edition of This is Vintage Now Vol. 2 via Paypal or GoFundMe. | |