Snowboy Presents New Vintage, Volume 1
Various Artists
21-track Vintage music compilation in the same vein as This is Vintage Now, featuring
Imelda May, Sharon Jones & the Dap-Kings, Ondřej Havelka & His Melody Makers, and more!
reviewed by David Gasten
Posted September 26, 2012
Various Artists: Snowboy Presents New Vintage, Volume 1. Digital album, CD, and 2-LP set released by BBE Records (UK), 2012. Compiled by Mark "Snowboy" Cotgrove.

Available on MP3 from iTunes (UK), iTunes (USA),  Amazon (UK), and Amazon (USA).


From Snowboy Presents New Vintage, Volume 1 liner notes:

There are so many artists around making amazing period-influenced music that I thought it would be great to see a compilation mixing it up. This would have been the first time it'd been done but I got pipped to the post by the very friendly US Vintage connoisseur, promoter and musician, David Gasten (his CD 'This Is Vintage Now' introduced us to the delights of Caro Emerald in fact), but nevertheless, I have a different take on it.

—Mark "Snowboy" Cotgrove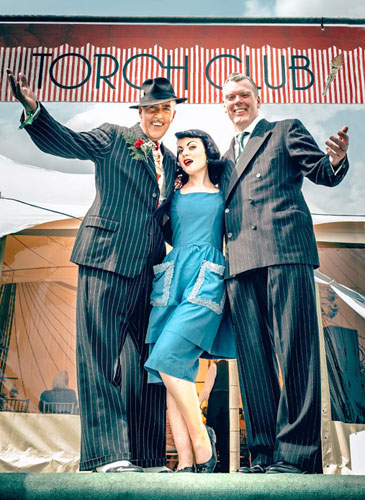 Mark "Snowboy" Cotgrove (right) underneath the marquee of The Torch Club with presenter Iain "Viv the Spiv" Dawson (left) and model Jennifer "Yesterday Girl" Siggs (center). The Torch Club is The Vintage Festival's onsite 1940's-style music venue. Photo courtesy Hanson Leatherby Photography.
We at This is Vintage Now are so happy to welcome a new comrade to the Vintage music compilation genre.  Presented and compiled by British DJ, event organizer, musician, and music historian Mark "Snowboy" Cotgrove, Snowboy Presents New Vintage, Volume 1 joins us in bringing together vintage style artists that get the vibe right in an authentic-feeling period experience that people can walk around in today.  Snowboy is the man behind The Torch Club, the 1940's-style music venue that is the centerpiece of the largest Vintage festival in the world, Wayne Hemingway's The Vintage Festival.  Snowboy Presents New Vintage, Volume 1 was commissioned by Hemingway and released on the British label BBE Records, who are famous for their DJ-friendly mix compilations in numerous genres.

Regarding Vintage-style music compilations, Snowboy says "I have a different take on it," and he is quite right. The way Snowboy and we built our respective compilations reflects our respective backgrounds, and Snowboy lays it all out on the table with a discussion of his own background in the liner notes. He got into older styles of music because of an older brother who was into the UK teddy boy and rockabilly revival scenes of the 1970's and early 80's. Snowboy then made a full immersion into 1960's soul and R&B, and has since become recognized as a top authority in those genres. Because of his work as a DJ, Snowboy sequenced the compilation to sound like a DJ spinning discs at a party, so noticeably different than the engrossing, journey-like immersion of This is Vintage Now, but not any better or worse, just different.

The album divides roughly into three sections.  The first eight tracks are an almost flawless, effortless run through 1960's-style R&B tracks, with a solid rockabilly opener.  The second seven songs explore the space around 1940's-style swing and 1950's-style rock and roll, and the third six explore the space around 1960's-style soul and R&B, each section straying one step away from their respective ground zeroes before going back to them.  The eight songs in the first section put the listener's mind in a happy, energized auto-pilot mode, and sound like the background music at the best party in town. The second two sections are more varied and require more concentrated listening.  They are also good and contain a lot of fantastic music.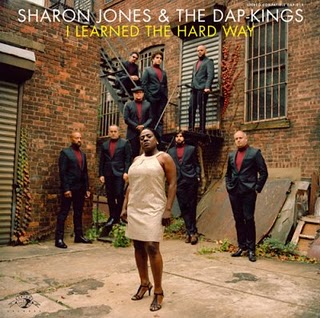 Sharon Jones and the Dap-Kings' "She Ain't a Child No More" is one of a run of fantastic soul/R&B tracks that make up the first section of Snowboy Presents New Vitnage, Volume 1. This track is originally from the Brooklyn-based group's album I Learned the Hard Way (2010), the cover of which is pictured here.
I really, REALLY enjoy the first section, which starts with a fantastic 1950's-style rockabilly group called Darrel Higham and the Enforcers before rolling almost effortlessly through one great 1960's-style soul/R&B tune after another, with tracks from great artists like Sharon Jones & the Dap-Kings, Speedometer, and Eli "Paperboy" Reed.  The section ends with Snowboy's own group Snowboy and the Latin Section doing a 1950's mambo cover, "I've Got to Learn to Do the Mambo", that sounds like it is being "updated" by a 1960's-influenced Afro-Cuban group.  This song is one of several on this compilation that demonstrate Snowboy's advocacy for genre cross-pollination.  The second and third sections of the album are enjoyable once you get used to the more focused listening they require.  You find yourself feeling sad that the compilation is coming to an end when you get to the gorgeous early Chicago-like horns on Magnus Carlton's emotional "From Now On." The final track, "One Day" by the lady-fronted soul group Kings Go Forth, then brings the compilation to a satisfying close.

Of all the tracks, the two that stood out to me the most were "Stop Whistling Wolf" by Imelda May and "Big Fat Trap" by Big Boy Bloater & the Limits. Both of these appear in the more varied second and third sections of the album, respectively. "Big Fat Trap" is hard-hitting jump blues/R&B song, maybe like Big Joe Turner's 1950's comeback period, but gruffer and delivered with a heavy punch—fantastic tune for jump blues enthusiasts like myself. Imelda May's "Stop Whistling Wolf" (a faithful rendition of the same song recorded in 1957 by western swing group The Maddox Brothers and Rose) is a cute 1950's "Little Red Riding Hood" story where an innocent girl gets swept off her feet by a seemingly wolfish cat-caller that turns out to be a kind gentleman at heart.  Imelda's girlish giggle that opens the track is just irresistible and instantly endears you to her, as does her refreshing, one-of-a-kind take on rockabilly.

1940's style big band Ondřej Havelka and His Melody Makers perfrom the vocal version of "Sing, Sing, Sing" on the rare Czech album Swing It! This may sound like it was recorded at the height of the Big Band era in the 1940's, but it was actually recorded and released in 2000, right at the end of the Nineties Swing Revival. The track is included on Snowboy Presents New Vintage, Volume 1.
Some of the other welcome additions on this compilation include the amazing 1960's authenticity of Brooklyn's premier soul group Sharon Jones and the Dap-Kings, as well as the Czech Republic's 1940's-style big band Ondřej Havelka and His Melody Makers, who, as Snowboy points out, "are so authentic…it may was well be a recording from [the 1940's] by one of the top orchestras."  Both of these groups understand how to tap the authentic period experience that the audience for Vintage music craves and holds out for, and it's great to have them together on the same compilation.
Snowboy also featured a lesser-known artist from previous periods with the inclusion of a track by 1970's rockabilly group Crazy Cavan & the Rhythm Rockers. The rockabilly artists of the 1970's and 1980's had a lot of gems to offer, and this particular choice, a song called "Teddy Boy Rock 'n' Roll,"  fits right in with the more current songs, although it would be nice if it didn't fade out so early.

I do have a couple of criticisms that I hope will be constructive and help make the next edition of Snowboy Presents New Vintage even better. First, I would like to see more consistently strong transitions from song to song.  I do understand that once you get halfway to two thirds of the way through an album, you hit a hump in listener attention that you have to overcome. I think that the compilation's switch to more active listening was employed in part to overcome this, but in this case it may start sounding erratic to the listener, and therefore be distracting. I would like to see a consistent "flow" through the whole album, to where it floats gently and effortlessly on the listener's stream of conscious, balancing active and passive listening to where each track sounds like just the right song to follow the previous song, and this keeps this up through the entirety of the album.

Compilation producer Mark "Snowboy" Cotgrove's group Snowboy & the Latin Section make an appearance on Snowboy Presents New Vintage, Volume 1 with their fantastic cover of Ivory Joe Hunter's 1955 track "I've Got to Learn to Do the Mambo." As one YouTube commentor says, "New Orleans, meet Miami!"
Next, I would also kindly recommend staying away from all rock music from the British invasion onward on future compilations.  There is a garage rock artist named Steve Hooker who appears late in the compilation that I know was included because of the incorporation of soul into his sound ala The Rolling Stones' "Time Is On My Side".  Steve Hooker is a solid artist and would be fantastic for Little Steven's Underground Garage or The International Pop Overthrow, but he is a poor fit for a Vintage compilation. Rock music is almost tyrannical in its tendency to consider itself the be-all and end-all of music, whilst it continues to stagnate and offer the same excruciatingly trite, zombified offerings over and over.  In order to give people a genuine escape experience, Vintage music needs to work outside of the confines of rock music and its clichés altogether, and let this decaying tyrant know that since it cannot get its act together, that music will progress forward without it. 

It's so great to have another compilation series filling the need for authentic-feeling Vintage-style music. It's also great to see Snowboy Presents New Vintage taking a different approach to the same concept, and in doing so showcasing so much great music that you or I might not have thought about getting into before. Snowboy Presents New Vintage, Volume 1 is a compilation that's doing its job well; it will be fun to see what Volume 2 will bring.

Track List:


Darrel Higham and The Enforcers "Baby Take Me Back"
Laura B & The Moonlighters "That's A Pretty Good Love"
Sharon Jones & The Dap-Kings "She Ain't A Child No More"
Speedometer "Ain't Going To Thursford"
Eli "Paperboy" Reed & The Trueloves "The Satisfier"
The Perceptions feat. Fred Wesley "Running The Risk"
James Hunter "Kick It Around"
Snowboy & The Latin Section feat. James Hunter "I've Got To Learn To Do the Mambo"
Ray Gelato & Kai Hoffman "That Old Black Magic"
Ondřej Havelka & His Melody Makers "Sing, Sing, Sing"
Si Cranstoun "Dynamo"
Imelda May "Stop Whistlin' Wolf"
Crazy Cavan & The Rhythm Rockers "Teddy Boy Rock 'n' Roll"
Rich Clifford & The Saddows "Find Me A Golden Street"
The Rapiers "Green Jeans"
Kitty, Daisy and Lewis "Don't Make A Fool Out Of Me"
The James Taylor Quartet "Blow Up"
Steve Hooker "Sugar Devil"
Big Boy Bloater & The Limits "Big Fat Trap"
Magnus Carlson & The Moon Ray Quintet "From Now On"
Kings Go Forth "One Day"