REBECCA POOLE
"This Is the Song"
Non-LP single

2012 Vintage-style Wartime Single
reviewed by David Gasten
Posted October 23, 2012
Rebecca Poole & The Red White and Blues Band of the Royal Airforce: "This Is the Song." MP3-only, non-LP single. Released September 25, 2012 by Becca Records UK.
We are proud to announce that "This is The Song" will be included as an exclusive on This is Vintage Now Vol. 2: Happiness is a Way of Life! This article was written soon after the single's release, and will remain on the website to retell the single's initial story prior to becoming part of This is Vintage Now Vol. 2.

British jazz vocalist Rebecca Poole (who now goes by the name Purdy) is a London-based performer who has already had an eventful career in her native UK, having yet to release a full-length album. Rebecca has already performed at The Royal Albert Hall and Wembley Stadium, has performed at numerous UK festivals, and has appeared on BBC TV and radio numerous times, all on the strength of a number of MP3-only singles and well-produced music videos.  These singles largely fall in the current jazz pop genre, and reference Vintage-style sounds as an influence.
However, her current single, "This Is the Song", makes a sharp break from the pattern of more current stylings, and dives headlong into a genuine, Vintage-style orchestral/large band sound that tries—and, in our opinion, succeeds—at being an unofficial follow-up to "We'll Meet Again" by Vera Lynn.  Backing Rebecca on "This Is the Song" is The Red White & Blues Band of the Royal Airforce; proceeds from the sale of the single go to the great British charity Help For Heroes, who assist Britain's "wounded, injured and sick Service personnel, veterans, and their families."
"We'll Meet Again" needs no introduction to those living in the UK, but for Americans, this was a popular song from 1939 by the British vocalist Vera Lynn that became an anthem for World War II soldiers separated from their families and sweethearts because of the war. "'We'll Meet Again' is such a moving piece, and I don't think there has been a remembrance song since with such velocity," Rebecca pointed out to UK journalist Chris Braddock in an interview from the time. "I think that I was massively influenced by that song when I wrote 'This Is the Song'."
Music video for Rebecca Poole's rousing wartime single "This Is the Song". The Red White & Blues Band of the Royal Airforce, who backed her on the single, appear with her in this video.
Writing an anthem that holds its own against "We'll Meet Again" and conjures the same anthemic spirit without sounding like a derivative was no mean feat. Rebecca took seriously the need to ground the sound in the atmosphere of the period, and took her time with the arrangements and the development of the accompanying promotional material.  Initially "This Is the Song" was scheduled for a release at the end of 2011.  The project had to be delayed until September 25, 2012, but it has turned out to be worth the wait.   
The track begins unassumingly in a classic c. 1950's orchestral jazz vein.  Rebecca's voice is a vaguely husky, rounded, open-throated croon that would fit in comfortably with many of the lady jazz vocalists of the 1950's.  And then what do we hear from that voice but these beautifully crafted lines of poetry:
"Every day I feel my heart beat out a warning
Ever since the day you had to go away
When I think of our goodbyes I can't wait to close my eyes
'Cause in my dreams I see you coming home—you're not alone"
It's the same positive, hopeful message that carried its musical predecessor, and yet it sounds nothing like it. The arrangements step up to the plate at each level, with the clarinets moving in as we hear:
"Oh my darling, all the nights are long without you
When it's only hope that keeps you safe from harm
And I won't let them forget, those forever in your debt
About the sacrifices that were made to keep them safe"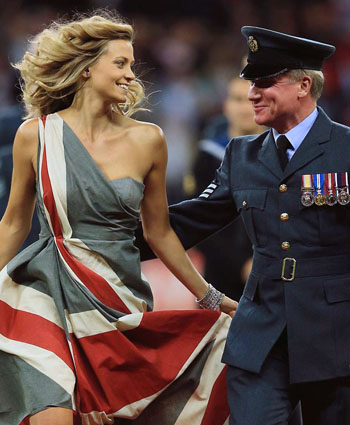 Rebecca Poole being escorted by a uniformed officer after her performance of "This Is the Song" at Wembley Stadium on October 12, 2012.
The song gradually and steadfastly transforms into a rousing, anthemic march, with the band filling in around Rebecca while she maintains her down-to-earth vocal styling like a lead actress in a war film. And yet the song avoids the pitfalls of conjuring up this image directly, opting for subtlety and poetic beauty instead. Likewise, as it crosses the bridge into its grand finale, it also avoids the trap of becoming schlocky, staying non-manipulative and speaking on behalf of the emotions of the separated souls it portrays:
"This is the song to remind us
How close that we came to danger
And every time that we play it
Our hearts will be brave"
It's very, very difficult to not have a tear in your eye as the song comes to its cold ending and, in the video, Rebecca's face drops, as the screen grayscales and goes into a gentle slow-motion freeze frame—a very nice ending touch.
Rebecca was able to take "This Is the Song" to Wembley Stadium, where she performed it on October 12, 2012 for a reported 75,000 people; the performance was broadcast on the British channel ITV.  And Dame Vera Lynn herself (who is still with us as of this writing) responded to Rebecca personally with these words regarding "This Is the Song": "Thank you for…the song you've written…[M]usic is a great way to give a message to our young people about the sacrifices that were made during the war…I wish you every success for your song and for the future."
As much as all of us despise war and want to see the world be at peace, there are power-hungry individuals that don't agree and will see to it that war is a part of life. But for those who are separated from their loved ones by war, either now or in the future, we have here a timeless, powerful track that can give hope and encouragement to those separated by this great tragic reality. It's a song that stands on its own and transcends trends, and has the potential to be utilized as a great wartime anthem for many years to come. It may even be one of the last songs some hear before leaving their loved ones forever, or before they themselves leave this earth; the promise of meeting again may not necessarily be on this side.  In that regard, Rebecca may even find herself to be the mortal instrument singing on behalf of the other side of eternity.  Well done.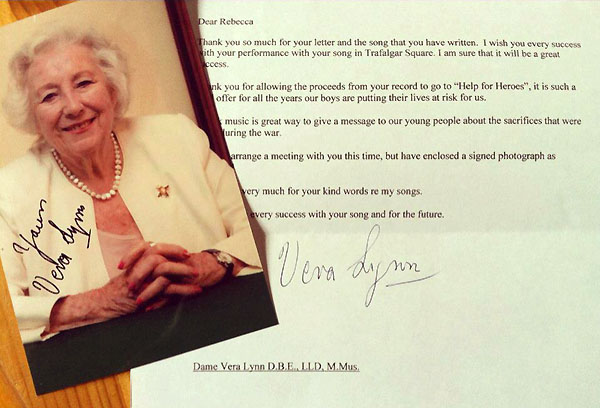 Dame Vera Lynn's letter to Rebecca Poole congratulating her on "This is the Song".