The Fuzzy Pink Nightgown (1957)

Movie review by David Gasten
Posted November 7, 2013
The Fuzzy Pink Nightgown, starring Jane Russell, Keenan Wynn, Ralph Meeker, Adolphe Menjou, Una Merkel, Robert Harris, Fred Clark, and Benay Venuta. Screenplay by Richard Alan Simmons, based on a novel by Sylvia Tate. Soundtrack by Billy May. Directed by Norman Taurog. Produced by Russ-Field Productions; released through United Artists, August 1957. Black and white, 87 minutes. Aspect ratio 1.33:1. Stream the movie from Amazon here (US only). Available as an all-region DVD from Vic's Rare Films (UK).
(Big thanks to This is Vintage Now fan and friend Jacqueline Bond for introducing us to this movie.)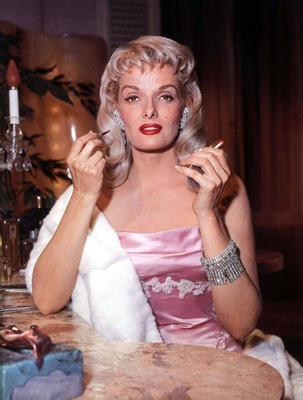 Jane Russell plays the actress Laurel Stevens in
The Fuzzy Pink Nightgown (1957).
"I sell a funny, phony commodity called 'sex'." So says actress Laurel Stevens (played by Jane Russell) at the beginning of the movie The Fuzzy Pink Nightgown (1957) as she dolls up for the big premiere of The Kidnapped Bride, a (fictional) costume film that she stars in. Just that morning, she was screening a trailer for the movie with her agent and her producer, and learned that her sexy bathtub scene had been cut out of the picture due to the censors' disapproval. She demanded that the scene go back in the picture or else she would be a no-show at her own premiere. As she finished getting ready for the premiere, she gets a call from her agent—the bathtub scene is back in the picture. She so in control, and the "sex sells" game she and her studio play is so predictably Pavlovian, they seem to think the bowling pins will drop without them even having to roll the ball.

But here is where things start getting interesting. This picture is set in a time when the public has had it with fake publicity stunts being drummed up to create interest in a movie. And it is in this context that Laurel finds herself being kidnapped at her own premiere—for a movie called The Kidnapped Bride. Everything about this reeks of a horribly bad publicity stunt, one so patronizing to the public that the backlash could cost Laurel her career as a movie sex symbol.
The problem though is that the kidnapping is real. The two men who dreamed up the scheme (Keenan Wynn and Ralph Meeker) are desperate for money and inexperienced at being con men, and are thus too naïve to realize how phony their kidnapping looks. The entire plot twists back and forth, leaving us uncertain if this kidnapping will be judged as phony or real—or if it will even be pulled off at all. The cops (namely Sgt. McBride, played by Fred Clark) get involved, the Louella Parsons-style gossip columnist Daisy Parker (Benay Venuta) smells a rat, the studio president's (Adolphe Menjou) stomach is tied up in knots, and Miss Stevens' manager (Robert Harris) and personal assistant (Una Merkel) are worried sick, while far and away in an oceanside lair we start finding out what—or who—is really real. This "real or phony?" balancing act is what carries the movie to the end, and makes The Fuzzy Pink Nightgown a genuinely fun and enjoyable picture.

If you've watched Jane Russell's movies, you know that she's a no-nonsense gal with a strong, commanding personality. That is the lady that we meet in The Fuzzy Pink Nightgown. And despite being famous for her full bust and for being explicitly sold as a sexpot throughout much her career (namely by the shameless Howard Hughes), in this picture she demonstrates that personality is what carries a girl for the long haul. And despite playing a fake broad involved in commoditizing sex, she unwraps the real person underneath, and uses personality to do so the whole time. So if you were expecting a fuzzy pink nightgown to be something you'd see Jane in, well, you will, but that's not what will make her the apple of your eye.
I'm also told that Keenan Wynn, who plays one of the two desperate kidnappers, has a certain hold on the female set. The fantasy of being taken away by force by a strong but gentle pair of masculine hands seems to have a certain feminine appeal, even 95+ years after Rudolph Valentino swept Agnes Ayres away on a white horse in the silent movie The Sheik (1921). So if imagining being whisked away by a ravishing man with a kind heart is your thing, you'll get to experience it in The Fuzzy Pink Nightgown.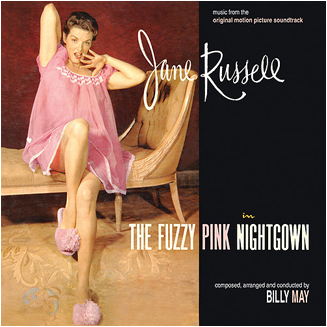 The cover of the gray-market CD edition of
The Fuzzy Pink Nightgown soundtrack, featuring orchestration by Billy May.
What exactly does a fuzzy pink nightgown have to do with this movie, anyway? Nothing, really. The actual nightgown you will see Jane wearing in the movie covers her from neck to toe. The still photos of Jane in a leg-baring nightshirt, as well as the full-busted, torso-hugging negligee in the title cards at the beginning of the movie, appear themselves to be a bait-and-switch publicity stunt. Hey, you've been warned. Do not expect acres of cheesecake or steamy love scenes, but do expect a fun movie with a tight script accompanied with a side order of take-me-away romance.
The Fuzzy Pink Nightgown received an Amazon.com exclusive VHS release a number of years ago that has long since gone out of print. You can stream the movie from Amazon here (US only). It's also available as an all-region DVD from Vic's Rare Films (UK).
Notes About the Fuzzy Pink Nightgown soundtrack

Imperial Records released a soundtrack LP for The Fuzzy Pink Nightgown in 1957 that features orchestrations by the great Billy May. There is a vinyl rip of this soundtrack on Spotify, but it is only avaiIable for streaming outside the US. The album also has a gray-market CD release paired with the A Breath of Scandal (1960) soundtrack that is available on Amazon.com.