Radio Birdman's
CHRIS "KLONDIKE" MASUAK
on This is Vintage Now Vol. 1
Radio Birdman's punk rock anthem "New Race" (1977).
Sweet Cheesus!
I was hangin' out after a gig in Denver (as you do) and some cat came up to me....He was talkin' about tryin' to get some cats interested in a jump blues band...something slick, sliding, and supercool!
He was upset that no one seemed to listen to that stuff anymore. I told him that it was on top rotation back home on The North 40.
He regarded me with suspicion...he didn't quite call me a liar.
But, he gave me the link to the This is Vintage Now compilation and let it slide.
It took a while for me to cruise on over to the site but when I did, I was astounded at the energy these artists put into celebrating the great classic sounds.
Thank you David Gasten! You and your crew keep makin' the old dreams come true!

Chris "Klondike" Masuak
(Radio Birdman/The Hitmen/The New Christs/The Screaming Tribesmen/Klondike's North 40, etc.)

P.S. Now, there should be a law about "coolage". These guys broke it!
______

Note from This is Vintage Now producer David Gasten: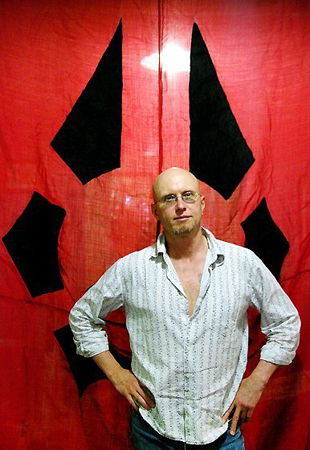 A recent photo of Chris "Klondike" Masuak of Radio Bridman standing in front of the Radio Birdman logo.

The above is a glowing endorsement letter for This is Vintage Now Vol. 1 from CHRIS "KLONDIKE" MASUAK, guitarist for 2007 Australia Music Hall Of Fame inductees RADIO BIRDMAN. Radio Birdman is the very first Australian punk rock band alongside The Saints, so essentially the Aussie version of The Sex Pistols or The Ramones. They were on Sire Records at the same time The Ramones and The Talking Heads were.
I met Chris backstage in Denver when Radio Birdman was doing a tour to promote their album Zeno Beach in 2007 (the week before they were inducted into the Australia Music Hall of Fame). I was trying to get my group David Gasten & the City Kids together and was being met with repeated and persistent apathy from the local pantheon of musicians. As I talked to Chris about the project, I remember being really surprised that he was a jump blues fan. It's funny that he remembers me being suspicious of that; I was going through so much disappointment at the time that I must have shown some "Let's make sure that this is real first" skepticism and didn't know it.

Chris gave me some encouragement that really stuck with me and got me through the remainder of that difficult period.  After explaining what I was trying to do in creating this "heavy jump blues" sound, I told him that to my knowledge there was nobody doing what I was trying to do in the country (i.e. in the USA). Chris responded, "I don't think there's anybody doing what you are trying to do anywhere." That really hit me: here is a cat that tours all over the world and is a fan of our style of music, and is cosmopolitan enough that he would likely know if there was someone elsewhere doing something like I described—and to his knowledge there wasn't anything like it.

A few years later, I reconnected with Chris, and at that time I had a pre-release copy of This is Vintage Now Vol. 1 available to share with him, complete with a recording of David Gasten & the City Kids' "The Deacon Don't Like It". And Chris delivered the endorsement letter that you see above. Thank you Chris!
―David Gasten
Producer, This is Vintage Now