Pola Negri: The Unknown Years (1935-1938)
by Frank Noack
February 2006
(all photographs courtesy Joop van Dijk)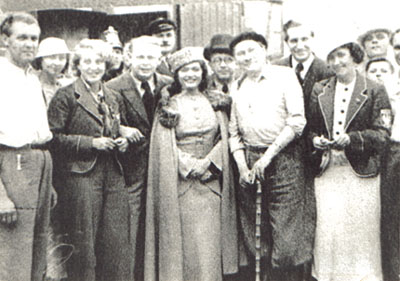 Pola with director Paul Wegener (the gentleman with the cane) and other members of the staff who worked on Pola's German talkie film Moskau-Shanghai (1936).
Along with Ingrid Bergman, Pola Negri is the most famous woman ever to have appeared in a German film of the Nazi era. (Let's forget Leni Riefenstahl for a moment because her fame, or notoriety, is exclusively based on her Nazi-era films; Bergman and Negri were top Hollywood stars.) Despite her fame, historians dealing with Nazi cinema hardly ever mention her, a notable exception being a 1988 edition of the magazine Frauen und Film (Women and Film), which contained chapters on both Bergman and Negri. There are several explanations for this omission. First of all, German film historians are sociologically oriented, and thus are less interested in artistic quality or popular success than in political content. As a result, such undistinguished films as Hans Westmar, SA-Mann Brand, and Die Rothschilds are given a higher status than they deserve because they contain nationalist or anti-semitic propaganda. Long forgotten by general audiences, these poorly made and even more poorly received productions were resurrected by well-meaning historians who wanted to condemn Nazi propaganda but only succeeded in providing inferior works of non-art with an ill-deserved classical status.

The six films that Pola Negri made between 1935 and 1938 did contain a little bit of ideology, but then again, what film doesn't? Negri, who was around forty years old when she made them, could no longer portray wild, aggressive women; instead she played fallen, tired mothers and wives who struggle for happiness. Her star persona was changed by age, not politics. While no exact numbers are available, Negri's German films following Mazurka seem to have been only moderately successful. "Pola Negri swallows too much money" Joseph Goebbels wrote into his diary on December 14, 1937, a week before Tango Notturno went into release. It is likely that she was highly paid while the grosses weren't too sensational, and that her status was comparable to that of Kay Francis and Ruth Chatterton in the mid-1930s, or that of Joan Crawford and Bette Davis in the 1950s. In today's Germany, Negri is best known as a singer. On CDs which contain songs from the 1930s, her name is prominently featured on the covers, a sign that buyers of such CDs are attracted by her deep voice, a contralto that is even more startling than Zarah Leander's.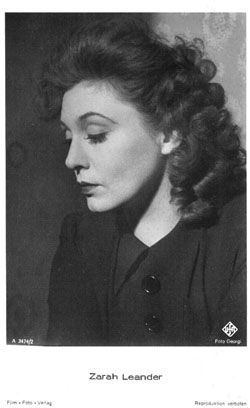 Over the years, Swedish singer-actress Zarah Leander (1907-1981) may well be the chief reason why Negri's German talkies are so little known today. In her autobiography Memoirs of a Star (1970), Negri claims that a film she refused to make in 1939 was never made because a star of her magnitude couldn't be replaced. This is a slight overstatement. At that stage of her career Negri could be replaced and, indeed, already was. She still was every inch a star, but a respected one rather than a hot one who drives people ecstatic. She was too obviously a woman with a past. Zarah Leander, whose breakthrough picture Zu neuen Ufern (To New Shores, directed by Detlef Sierck, alias Douglas Sirk), was released on August 31, 1937, also played women with a past, but she seemed young and fresh enough to fall in love again. For Negri's characters it was too late for that. Her only options were prison, suicide or returning to a middle-aged, unglamorous husband. (Since Pola only worked but never lived in Germany during the 1930s, living and spending her free time in France, it is possible that she never took notice of her chief rivals in the German film industry.)

In fact, when she arrived in Germany in January 1935, those people who were going to work with her didn't actually know how she might look like. As it happened, her silent classic Die Augen der Mumie Ma (The Eyes of the Mummy, 1918) had just been re-released, but the men who were going to produce and direct her comeback picture Mazurka were too young to know her actual age and present appearance. Director Willi Forst recalls that he was fairly relieved when he first saw Pola in person, being received in her luxurious cabin on the ship Bremerhaven when it arrived, but he was also distracted by traces of white powder on her upper lip. During the shooting of Mazurka she ceased snorting cocaine, but she drank champagne all the time—and out of silver chalices, no less. Her drinking in no way affected her professionalism. According to what such co-workers as Forst, composer Peter Kreuder, and co-star Albrecht Schoenhals (best known for Visconti's The Damned) reported in later years, she didn't suffer from alcoholism; she just drank a lot and could afford it. In their autobiographies, her co-workers also recalled Pola's desire for more erotic moments in her films. The long production history of Mazurka, which didn't open until November 14, 1935, was due to supporting actress, ingénue Ingeborg Theek, falling seriously ill. However, the final film turned out to be a triumph for all concerned. In addition to being a superior director, Willi Forst was also a clever publicist. Long before Alfred Hitchcock asked reviewers and audiences not to reveal the plot of Psycho, Forst did the same in his campaign for Mazurka, despite the fact that the plot wasn't that original—in fact, it was strongly reminiscent of Madame X (itself probably not an original).

For her character's soprano numbers, Pola's voice had to be dubbed. This worked well in the film where a fallen woman is characterized by a contralto while in the flashbacks depicting happier times, she manages a soprano, but it's distracting to listen to on CD. Here, all of a sudden, Hilde Seipp (Pola's soprano stand-in) interrupts Pola, and one wants to edit that out.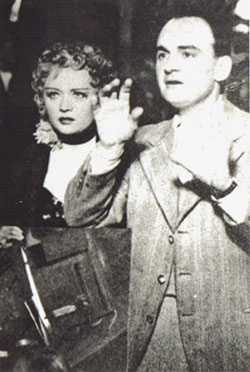 Willi Forst directing the scene where Pola makes her grand entry as the cabaret singer in Mazurka (1935), one of the Third Reich's biggest international box office smashes.
Willi Forst, a former lover of Marlene Dietrich's (they appeared together in Cafe Electric in 1927), is highly regarded in Germany and Austria, although, oddly enough, general film histories ignore him because he's too unique, too much in a class of his own. He enjoys the singular honor (for a German-speaking filmmaker) of having directed two films that were remade scene-by-scene in Hollywood. Maskerade (1934) became Escapade (1935), with Luise Rainer substituting for Paula Wessely, and Mazurka was remade as Confession (1937), with Kay Francis in Pola Negri's role. As an actor, Forst shared some characteristics with Cary Grant: charming and debonair, he also had a slightly cynical, even sadistic streak. As a director, he was schizophrenic. His best-loved films, such as Maskerade and Bel Ami (1939), are opulent, charming fin-de-siècle comedy-dramas. Allotria (1936) is a zany screwball comedy, comparable to Libeled Lady in that it featured four big stars (Renate Müller, Jenny Jugo, Adolf Wohlbrück, Heinz Rühmann).
Most controversial are Forst's over-the-top melodramas Mazurka and Die Sünderin (The Sinner, shot in 1950 and released to violent protests and big box-office in early 1951), a striking noirish silent film with Hildegard Knef's voice-over commenting the plot, told in non-chronological flashbacks. (It was Forst's old love Marlene who encouraged Knef to do the film.) Mazurka is so over-the-top that Forst asked his composer Peter Kreuder to use loud music in some scenes so that audience laughter might be drowned out. As it turned out, this wasn't necessary. Audiences were deeply moved. (As it happened, Kreuder was a former lover of Marlene's as well.)

Because of some of her spectacular off-screen antics, many people think of Pola Negri as a wildly melodramatic, unsubtle actress. The opposite is the case. In this respect her next-to-last German talkie, Nunzio Malasomma's Die Fromme Lüge (The Noble Lie, shot from December 15, 1937 and released on March 25, 1938), is particularly revealing. It is a quiet melodrama to begin with, too quiet to be exciting but likeable and modern as a result. Like James M. Cain's Mildred Pierce, Pola's character is too generous to her child, a son in this case, and doesn't know when to stop. She commits a kind of cheque forgery to cover his debts (to be more exact, she signs a contract and gets advance money without telling her impresario that she has lost her singing voice after her son was nearly killed in a racing accident), but all ends well. In the film's first minutes it is not established that the young man is her son, and we are led to believe he's her young lover. That's a fine idea carried out well.

The only other of Pola's German talkies I have seen is Tango Notturno, which reputedly was intended for Marlene Dietrich in case she might return to Germany. (At Paramount, Dietrich had starred in Song of Songs and the aborted Hotel Imperial, both remakes of Pola's silent films.) The plot and structure are strongly reminiscent of Mazurka. Pola was teamed up again with Albrecht Scohoenhals, her leading man in Mazurka, and this time Pola is dead and Schoenhals is accused of murder (instead of the other way around, as was the case in Mazurka). Again a married woman visits a former lover, and her husband finds out and rejects her; again she loses her voice and, worse than appearing in a cabaret as in Mazurka, has to prostitute herself. Pola's first minutes are arresting. In dark, wet streets reminiscent of Weimar cinema at its best (the art director Erich Czerwonski had repeatedly worked with the great German director F.W. Murnau in the 1920s), Schoenhals follows a mysterious woman who gets nervous and flees. Needless to say, it's Pola. The next minute, she's dead, and he's in jail. It is difficult to defend Schoenhals because he refuses to reveal the identity of the dead woman, who quite obviously was a drug-addict and a prostitute. In the flashbacks, it is revealed that the dead woman was his beloved wife, a celebrated singer who gave him his big break in show business. After their child's death she felt obliged to go underground. When Schoenhals found her, it was too late. Schoenhals is rather unconvincing in the flashbacks (too old, too world-weary) as a struggling young composer, but that's only a minor weakness. No other of Pola's German talkies has such a strong supporting cast. Most impressive are Erich Pontos a drunk man in a bar, Elisabeth Flickenschildt as Pola's maid, and best of all: Lina Carstens as the vulgar landlady in whose rooms the final tragedy takes place. This woman is both funny and creepy. In an almost supernatural sequence, she encourages Schoenhals to take poor Pola back, but at the same time she claims that a drug addict will forever be a drug addict and cause harm to all people close to her. Carstens' voice can be heard all over the house, driving Pola to suicide.

Two further films in which Pola was supposed to star did not materialize are worth mentioning. Some filmographies contain Gräfin Volescu (Countess Volescu). This spy melodrama was announced for her by the Film-Kurier (July 15, 1936), to be co-starring Gustav Diessl and Paul Hartmann, but it was never made. Pola also was to co-star with Hans Albers in Gustav Ucicky's Savoy-Hotel 217 (Savoy Hotel, Room 217), a Czarist Russian-set murder mystery. She had to leave the project (which would have been her comeback at UFA) because she fell ill in January of 1936, but there may have been other reasons. Hans Albers was a domineering star, and Pola would have had to play second fiddle to him. In all her German talkies she had competent but rather bland leading men. Her character in Savoy-Hotel 217, finally played by Brigitte Horney, is a married hotel guest in love with the hotel's head waiter Albers. This woman is quickly established as the film's female lead, but less than a half-hour into the film, she is shot—by her jealous husband, as it turns out in the end. Thus Alfred Hitchcock wasn't the first director to kill of his leading lady at the beginning of the film. For the rest of the film, chief suspect Albers goes underground to find the murderer. Being cleared, he gets his girl, played by Gusti Huber who went on to play Anne Frank's mother in The Diary of Anne Frank (1959).

A final note: one of main attractions of Karl Anton's anti-Soviet melodrama Weisse Sklaven - Panzerkreuzer Sebastopol (White Slaves: Battleship Sebastopol), whose shooting began in June 1936, was Peter Kreuder's song "Wenn die Sonne hinter den Dächern versinkt" ("When the Sun Goes Down Behind the Roofs"), sung by leading lady Camilla Horn. Before the film was released on January 5, 1937, Germans already knew the song because it had been previously recorded by Pola Negri. On CD's it is still her version that one can hear.

_______
Frank Noack is a staff film reviewer for Der Tagesspiegel, a daily newspaper in Berlin, Germany. He is also the author of a biography of German actor-director Veit Harlan entitled Veit Harlan, 'Des Teufels Regisseur' (2000), and is currently working on a biography on the great German actor Emil Jannings, whom Pola co-starred with in Die Augen der Mumie Ma (aka The Eyes of the Mummy) (1918), Madame DuBarry (aka Passion) (1919), and Vendetta (1919).

(back to Articles and Movie Reviews)