Asta Nielsen: The Complete Danish Films on DVD
A review by David Gasten
December 13, 2009
Danish Silent Classics: Asta Nielsen. PAL Region 0 (all region) DVD with English and Danish DVD menus. All films have option of English or Danish intertitles. Released by Danish Film Institute, 2005.
Click to buy Danish Silent Classics: Asta Nielsen from Edition Filmmuseum.
This DVD features the complete Danish films of Asta Nielsen, which are as follows.
Afgrunden (English title The Abyss, 1910). Screenplay and direction by Urban Gad. Production company: Kosmorama. Cinematography: Alfred Lind. Cast: Asta Nielsen, Poul Reumert, Hans Neergaard, Robert Dinesen, Emilie Sannom, Oscar Stribolt. Silent film, 35 minutes (16 fps).
Balletdanserinden (English title The Ballet Dancer, 1911). Directed by August Blom. Screenplay by Alfred Kjerulf. Production company: Nordisk Films. Cinematography: Axel Graatkjær. Cast: Asta Nielsen, Valdemar Psilander, Johannes Poulsen, Valdemar Møller, Karen Lund, Emilie Sannom. Silent film, 45 minutes (16 fps).
Den Sorte Drøm (English title The Black Dream, 1911). Screenplay and direction by Urban Gad. Production company: Fotorama. Cinematography: Adam Johansen. Cast: Asta Nielsen, Valdemar Helsengren, Ellen Holm, Peter Fjelstrup, Ellen Feldmann. Silent film, 56 minutes (16 fps).
Mød Lyset (English title Towards The Light, 1919). Screenplay and direction by Holger Madsen. Production company: Nordisk Films. Cinematography: Axel Cinematography: Sophus Wangøe. Cast: Asta Nielsen, Augusta Blad, Alf Blütecher, Frederik Jacobsen, Anton de Verdier, Nicolai Neiiendam, Elith Pio, Astrid Hola. Silent film, 55 minutes (20 fps).

Piano score and accompaniment on all films: Ronen Thalamy.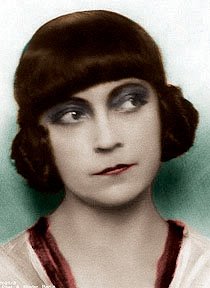 A colorized portrait of the fabulous Asta Nielsen.
Danish silent movie actress Asta Nielsen is arguably the earliest movie star, and was an incredibly dominant figure in the European movies of the 1910's and early 1920's. Asta's breakthrough Danish movie, Afgrunden (The Abyss, 1910), was an international success, so much so that Union-Film A.G. in Germany bought out her contract the next year; Asta would go on to make most of the rest of her movies in Germany. Although few of her movies were seen in the United States, Asta was an omnipresent figure in continental Europe in the World War I period. She was a popular pin-up girl with German soldiers in WWI, and her face and image were used extensively for merchandising in the 1910's.
The Danish Film Institute compiled a DVD of the complete Danish films of Asta Nielsen (four total), which we are reviewing here. What we have in this DVD are Afgrunden, Balletdanserinden (The Ballet Dancer), and Den Sorte Drøm (The Black Dream), a trilogy essential movies from 1910 and 1911 that are monumental works of art of massive historical importance, and Mød Lyset (Towards The Light), a feature film from 1919 that's interesting as an historical relic.
There's Something About Asta…

There's something so unique and special about Asta Nielsen, the Gibson Girl with the mask-like face and the gigantic dark eyes—something surreal yet human, distant yet endearing, cold but warm. It's the very thing the French phrase "je ne sais quoi" (I don't know what) was built for. And as an actress, I like to think of Asta as Pola Negri's big sister. Even early on, Asta was so good at reeling the audience in and making them believe that she really was the characters she was playing. For example, in Hamlet (1920), she played a woman disguised as a man, and played the man's role so well that she would have to periodically remind you with her acting that she was really supposed to be a woman. Her tragedienne characters elicited your sympathy, her dancing characters made you want to dance with her, and her sad prostitute characters made you want to bail them out of their streetwalking misery. And Asta did all this with a grace and realism not unlike that of Lillian Gish in a period when theatrical mugging and overacting were the norm.

The 1910-1911 Trilogy: Watching the Birth of The Movies
Afgrunden, Balletdanserinden, and Den Sorte Drøm.This trilogy of Asta movies from 1910 and 1911 are really precious items because we have the privilege of seeing the movies as we know them being born before our very eyes. They are just as important to movie history as Cabiria and Birth of a Nation, but the Asta movies succeed in minimalism where the latter two succeed in spectacle.
The notorious and incredibly sexy "vamp and cowboy" routine from Afgrunden (The Abyss, 1910).
While American films were still throwing pies, the 1910-1911 trilogy of films show that the Scandinavians were starting to figure out how to adapt the melodrama and spectacle of the theatre to the smaller confines of the movie screen and make it work in that context instead of simply filming a play. In adapting the art of storytelling to the newly developed silver screen, the creators of these three movies unknowingly tapped into the principles of the kammerspielfilm a decade before that subgenre took on a life of its own. As with the kammerspielfilm, the intertitles are few, and the storylines are minimalistic, relying on the action and the non-verbal communication on the actors. As movies developed, these principles of minimalism would be taken to even more extremes when the kammerspielfilm was unveiled to great critical response in 1921 with the movie Backstairs (Hintertreppe, 1921).
These three movies have a primitive feel, but it's a good kind of primitivism. It reminds me a lot of listening to the early heavy metal album The Man Who Sold the World (1970) by David Bowie. That album catches metal when it was barely two years old, before there were any limits on what heavy metal was or could be, and even before anyone knew that Bowie wasn't supposed to be doing metal. These early Asta Nielsen movies catch that same mystical shrouded vibe of an art form having just broken out of its shell and looking around trying to figure out what it has been born into.
But these primitive movies are also highly entertaining (see the plot summaries in the appendix below). The stories are timeless love triangle predicaments that capture you and draw you in, and Asta Nielsen's characters are all so lovable and sympathetic, even when she is being a bad girl as in Afgrunden. The rarity and age of the movies compounds the primitive aura even more, making these movies mesmerizing gems that I absolutely cherish and love to watch over and over.

Mød Lyset (Towards The Light, 1919): Inspiration Manqué
After our previous trilogy of masterpieces, Mød Lyset, the final film on the DVD, is quite a letdown. This movie is meant to be an inspirational picture like The White Sister (1922) or The Miracle Man (1919), but frankly this is an inspirational picture manqué. Mød Lyset tries to pack way too much drama into too small of a space, essentially including enough story elements to fill out a Griffith spectacle in an hour's space. Too many plot structures and too many tragedies in a row leave Asta moping around a lot, almost as if the producers are trying to squeeze in as many dramatic Asta mope shots as possible, equating more mopey Asta with more high drama. But after so much tragedy and so much mopey Asta, the story collapses under its own weight, coming off as ridiculous, strained, and improbable. Add some violinist wheedling away tragically on the fiddle and a prompter on the side of the screen holding up a card that says "Cry here" and it would be perfect, except that you'd end up crying from laughing so hard. You can see why Carl Dreyer was working so hard to improve the quality of Danish movies at the time, only to be called away himself to the more vibrant and lucrative French and German film industries.
The closing scenes from Mød Lyset(1919), featuring Asta and her husband holding revival services and Asta symbolically taking on the appearance of an angel. The ugly modern soundtrack in this version is not present in the DVD release, thankfully.
It's obvious from watching Mød Lyset that the Danish film industry had gone from being on the cutting edge to falling in last place in the horse race, as here they are trying to imitate the movies of D.W. Griffith and stealing cues from the Italian epics on the side. They even have a waif character the looks uncannily like Mae Marsh (she's a cutie, but you can't miss the similarity). If The Miracle Man still survived, I suspect that we'd also recognize cues being stolen from that too, because there's a definite vibe that it shares with the surviving few minutes of footage from The Miracle Man.
This movie is definitely more of an historical document, but it is of interest since it is the only later Danish film that features Asta Nielsen, as all the rest of her movies from this period are German. But if you want to see the best of Asta in the prime of her career, watch Hamlet or The Joyless Street instead.


About the DVD itself
Although this DVD is a Danish import, the DVD itself is Region 0 and therefore will play in any region. However, the film is encoded in the PAL format, which may potentially cause some trouble with some American DVD players, although my experience has been that most PAL DVD's play fine in American players. I was expecting the DVD to be a little unfriendly to English-speaking Asta fans like myself, only to find the contrary to be true. The DVD menu gives you the option of Danish or English menus, and the English menu gives the movies with electronic English intertitles whereas the Danish menu gives you the film with the original Danish intertitles from the 1910's. The piano scores are adequate and keep the movie rolling along, so in other words they do their job.
The only problem with the print quality in this DVD is the large amount of warping and decomposition that mar the existing print that is being used as the source material for Afgrunden (The Abyss). I would think as famous and influential as this movie was that there have to be other copies out there and that someone should do a digital restoration of this movie using alternate prints. However, making it available to the public in its current somewhat marred condition is still a step in the right direction. This is the only print that I have any visual complaints about, as all of the other prints look spectacular.
Overall, it's great to have these movies available so that people can experience for themselves what a great actress Asta Nielsen was. This is one the most cherished DVD's that I own, and I absolutely recommend it to anybody who loves European silents or who is interested in the history of the movies.
____________
Appendix: Synopses of Afgrunden, Balletdanserinden, and Den Sorte Drøm (1910-1911)
(Warning: spoilers ahead)
Afgrunden (The Abyss, 1910) is a timeless love triangle-gone-bad story that we never seem to get tired of. The story is about Miss Magda Vang, a young student and piano teacher who meets a nice, well-to-do young man ("the good boy") who likes her and asks her to spend the summer with him and his parents at their vicarage estate. No sooner does life with the idle class become boring than a traveling circus comes parading by with a special attraction—a cowboy named "Mr. Rudolph" ("the bad boy"). Miss Vang cajoles the good boy into taking her to the circus, where they run into the "bad boy" again. Rudolph follows them all the way back to the vicarage, and the good boy beats him back and makes him leave. That night, Mr. Rudolph climbs a ladder to Magda's window, and they run away together. The poor good boy goes to the city in search of her, and finds her at an artists' hotel. Magda is there with the bad boy, who is drinking and philandering, and generally treating Magda like a rag doll. The boy tries to rescue her, but Rudolph comes in just as they are packing up her things and works his Svengali-like magic on Magda. The boy ends up leaving the hotel alone.
Magda and Rudolph are employed as an act at a variety show. They do their sexy "vamp and cowboy" routine for an ecstatic audience. But then Rudolph's philandering causes an onstage catfight between Magda and a lady performer in the next act. The owner of the venue fires Magda and Rudolph, and the downward spiral begins. Magda gets work as a performer in a beer garden, while the boyfriend spends his time in the beer garden drinking and gambling their pay away. Our hero the good boy just so happens to drop by the beer garden with a friend, and he tries once again to take Magda back. Of course, Magda now feels guilty and unworthy of the great guy she deserted. Rudolph walks in on this and starts a scuffle that results in the good boy getting locked out of the room. Rudolph starts fiercely abusing Magda, and she pulls a knife and kills him in self-defense. When Magda realizes what she has done, she does a dramatic swoon over top of Rudolph's dead body, which is one of the most famous moments of her entire career. A cop peels Magda off of Rudolph's body and escorts her to the slammer, while the good boy looks on helplessly. The End.

Balletdanserinden (The Ballet Dancer, 1911) is interesting to watch right after Afgrunden because it attempts to expand the storyline of Afgrunden, right its wrongs, and pay tribute to it all at once.
A student ballerina named Camilla Flavier meets Jean, the director of a play, and demonstrates that she knows the play he is directing by heart. The primadonna calls in sick and they don't have an understudy, so the director calls Camilla in to have her play the role. Camilla then proceeds to act out a slightly altered version of the fight and murder scene at the end of Afgrunden onstage, and it's a raging success with the audience.
A little later, Camilla and Jean the director are in a beer garden (sound familiar?), where Camilla is clapping flies with her hands to amuse herself. Camilla meets a friend of the director, an artist named Paul Rich. Paul asks Camille to pose for a painting. Meanwhile, Jean meets a middle-aged couple, Mr. And Mrs. Simon, and the voluptuous Mrs. Simon proceeds to have a tryst with Jean. Camilla catches Jean and Mrs. Simon in the affair. When an unknowing Mr. Simon asks Camilla to come and recite some verse at a banquet he is putting on, Camilla gets her revenge by using it as a soapbox to expose Mrs. Simon in front of her husband and everyone. Paul (the director) and Jean (the artist friend) are both at the banquet, and Jean takes a distraught Camilla to his studio and lets her sleep there. Mrs. Simon deceives Mr. Simon into believing she is over Jean but then continues to have the affair with Jean anyway. Meanwhile, Paul chews Jean out for his adultery, and no sooner does Jean deceive Paul into believing that the affair is over then Camilla finds out that the affair is still taking place via a "Meet me at…" note that Jean has dropped. Camilla takes the note to Mr. Simon, and the enraged Mr. Simon packs a gun and goes after Jean and Mrs. Simon at their trysting spot. Camilla did not expect murder to be involved, so she beats Mr. Simon to the lovemaking location, and she hatches a plan with the lovers to make it look like the affair wasn't really happening after all. The plan falls through, and Mr. Simon finds Mrs. Simon and shoots her, going through the same dramatic swoon over the body of the freshly killed lover that Asta does at the end of Afgrunden. The police come and haul him off just as they did with Asta in Afgrunden.
Paul the artist is with Camille at a rehearsal when she gets the news that Mr. Simon shot Mrs. Simon. Camille has a breakdown and Paul nurses her through it. Paul takes Camille on a trip to see his parents, and it is there that the two fall in love. Jean tries to come in between Paul and Camilla, but it's too late—this time Asta's character has found her way back to the "good guy" she stupidly forfeited in Afgrunden and is smart enough to stick with him.


Den Sorte Drøm (The Black Dream, 1911) is more love triangle trouble, just set up in a different way. Asta plays Stella, a horse rider at a circus with two suitors, a kind younger man and a conniving (but rich) middle-aged man. Initially Stella accepts the advances of the younger suitor and wards off the advances of the elder suitor, but the elder suitor is persistent and shows up uninvited to a party Stella is throwing for her friends. The elder suitor is a wealthy jeweler and uses the universal feminine love for jewelry to attempt to befriend Stella. When the party ends up at Stella's apartment, the two suitors get into a fight over Stella and duel it out with a deck of cards. The elder suitor plucks the younger suitor of all his money, and the younger ends up owing the elder 85,000 crowns, which must be paid in 24 hours. Stella tries to use the elder suitor's offer of a complimentary piece of jewelry as an attempt to steal a pearl necklace from him, and plans to give the stolen necklace to the younger man to sell so he can pay off the debt. The elder suitor sees Stella commit the act of the theft, and then spies on her as she gives the necklace to the younger suitor to sell. The elder suitor buys back the stolen necklace and lets Stella know that he now owns her and that her wants her to be his girl toy, or else he will turn her in to the authorities. Stella resigns herself to her fate, sadly casting off the young suitor. The young suitor believes she is dumping him for love of the other man and becomes jealous. He finds elder suitor and Stella together and shoots Stella in a fit of jealousy. Stella confesses her love for the younger suitor and reveals why she did what she did as she dies. The End.