Bitch to perform in New York at the Defenders of the Old Festival
Since 2014, Betsy Bitch has been working with a new lineup of musicians for a new incarnation of Bitch. The core lineup consists of Betsy on vocals, Scandal West on drums, Chris Cardenas (of Rikki Rockett's solo band) on guitar, and Angelo Espino (Heretic, Anger As Art, Hirax, Once Dead) on bass. Espino is the only holdover from the Anger As Art/All-Star Line-Up Mark II of Bitch, whose story is chronicled here. Chris Cardenas was recently called away for extended work aboard a cruise liner; guitarist Alex O'Neill is filling in for Cardenas in his absence.
The new lineup of Bitch places a strong focus on Betsy's personality, and utilizes many lesser-known songs from the Bitch archives, including tracks from the often overlooked Betsy (1988) album that had never been performed live previously. The new lineup's sound is a three-way meeting of traditional metal, melodic rock, and stoner metal, with Betsy's can't-take-your-eyes-off-of-her entertainer presence in the center of it all.
On June 16, Bitch will be playing their first show in New York City since 1986, co-headlining the Defenders of the Old Festival in Brooklyn alongside metal pioneers Cirith Ungol and Nasty Savage. The festival will feature a number of first and first-in-many-years appearances for 1980s heavy metal bands, including Ventura, CA-based Cirith Ungol's first ever East Coast performance. Defenders of the Old is a must-see festival for NYC and East Coast metalheads, and a very rare chance to see Bitch in action locally. Tickets to the Defenders of the Old Festival are available at their official website, Defendersfest.com.
_________

Betsy Bitch is Americaís whip-cracking pioneer for women in heavy rock music. She is best known as the lady frontman of the Los Angeles-based heavy metal band Bitch. Betsy has also worked with veteran Sunset Strip metal band Witch, and used to front the second-wave ska band The Boxboys.
Bitch has the distinction of being the first woman-fronted American metal band to ever be signed to a label, as well as the first band to release an album on the legendary Metal Blade Records. Bitch would keep a steady profile throughout the eighties in the face of consistent disdain for woman-fronted heavy bands, proving that women can rock just as hard as their male counterparts.
This website is an information resource on Bitch and their pioneering singer, the amazing Betsy Bitch. The site features an extremely detailed Bitch Discography that chronicles every album and compilation that Bitch has ever appeared on, as well as a listing of Bitch member appearances on other albums outside of Bitch. Eventually we will publish a full Bitch Biography that will take you through the bandís story; for now we have a sample of what's to come. We also have an obituary page to Robby Settles, co-founder of Bitch, who passed away after a year-long battle with leukemia on May 26, 2010. In the near future, we hope to include more information on The Boxboys as well.

Disclaimer:
THIS IS AN UNOFFICIAL FAN SITE.
Betsybitch.com is the intellectual property of its creator and webmaster David Gasten, and the material contained herein is covered by fair use laws. All opinions expressed in this website are solely those of the webmaster, and do not necessarily reflect those of the members of Bitch, their management, or Metal Blade Records. Whenever possible, the photos used herein have been sourced to their rightful owners; if you own a photo that is not credited properly, please email the webmaster at davidgasten ??? yahoo !!!! com and the proper credit will be added.
Note: There is NO ADULT CONTENT anywhere on this site! If you are looking for adult content, look elsewhere.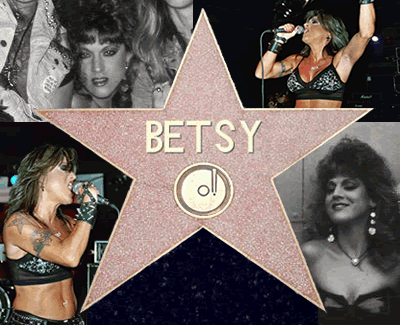 (Photos in Betsy's star by Mike "Ozzy" Gibbens.)