GENIUS IN THE KITSCH-EN:
Introducing The Velveteen Lounge Kitsch-en YouTube Video Series


by David Gasten
Posted October 28, 2013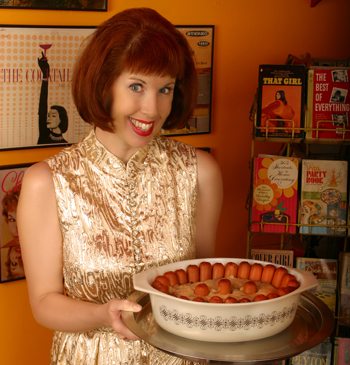 Kelly Patterson, the lovely hostess of the YouTube series The Velveteen Lounge Kitsch-en.
If you enjoy watching videos on YouTube, (and who doesn't?), one YouTube video series you will want to keep an eye on is The Velveteen Lounge Kitsch-en. Hosted by talented actress-turned-culinary mistress Kelly Patterson, The Velveteen Lounge Kitsch-en is a willfully kitschy and stunningly well-done biweekly series that is presented like a miniature television show. The series offers food and alcoholic beverage recipes in a delightfully cluttered setting of thrift store décor and retro bric-a-brac.  Patterson delivers each episode in the series with confident bravado and subtle, dry humor that elicits your attention and endears you to the series as a whole.  There's so much richness and genius that goes into the videos in this series, and its blending of over-the-top and subtle elements is so masterful and one-of-a-kind.

One video that really demonstrates the quality of this particular YouTube series is one that they uploaded in December of 2011 called "Lime Jell-o Marshmallow Cottage Cheese Surprise".  Patterson and Co. found a lesser-known novelty song from William Bolcom and Joan Morris (aka Bolcom and Morris) that lists a series of unappetizing-sounding dishes made for a fictional ladies' society gathering.  The song itself dates from 1980, but is written in a parlor room piano music style that's comparable to Tom Lehrer's music. Well, what did Patterson and Co. do but make every least one of the dishes in the song—AND make them look really tasty!  See for yourself:

The Velveteen Lounge Kitsch-en's rendition of
"Lime Jell-o Marshmallow Cottage Cheese Surprise."

The best artists and entrepreneurs in Vintage love to research, and the folks at the Velveteen Lounge Kitsch-en are no exceptions to the rule.  The mid-century is a very rich time that is full of fascinating culture and artifacts waiting to be re-discovered and shared with others.  Patterson and Co.'s love for the period and willingness to try about anything led them to find this song, see how it fit in with the Vintage mindset, and then expand upon it, when others might be tempted to overlook it because of the current cultural hostility toward novelty music. Here's the original track, which is also quite good:
The original "Lime Jell-o Marshmallow Cottage Cheese Surprise,"
written and performed by William Bolcom and Joan Morris.

What makes the Velveteen Lounge Kitschen's "Lime Jell-o" video work so well?  Here's a list:

1. The videography, storyboarding, and editing. The editing stays up with the sprightly vibe of the song and adds many extra subtle touches to it, such as having Patterson change from a frumpy dress to a festive one when she first presents the lime Jell-o dish, the use of color treatments to make the viewer feel like they've eaten too much, and the adding of other flourishes like the toast and the milk in the blender to add humor.  Each shot is carefully thought out and created in a way that is appealing to the eye.  The overall impression that they leave you with is a superficial sense of being unappetized, whilst actually being fascinated with the food and wanting to try it. The strawberry-tuna salad genuinely looks good!

2. The acting.  Throughout the series is a subtle two-layered acting technique where Patterson pretends to overact whilst delivering a believable personality of a cultured middle-aged lady with a playful, youthful streak. She is able to make individual situations (such as the "lies, lies, lies" sequence) look and feel genuine even though they are completely unreal and the product of the imagination. And her lovable personality makes you want even more.

3. The food.  Kelly Patterson tells us, "I got into vintage cookbooks [because] I loved the images and reading about that bygone era. Then I decided to combine it with the performing, first as a play I wrote, then as The Velveteen Lounge Kitsch-en."  And she has gotten amazingly good. The food AND drink recipes look delicious and demonstrate a fantastic knowledge of ingredients and cooking techniques, as well as an ability to simplify them for culinary numbskulls like myself who are only good at pouring cans together in a pot.  They understand garnishing and colors and all the other things that make cuisine and mixology the full sensory experience that it is, and make it all look so fun that you want to give it a try yourself!  (Although we suspect that the dishes in "Lime Jell-o" are probably a little more advanced.)

Subscribe to The Velveteen Lounge Kitsch-en's YouTube channel and watch for new videos of endlessly clever retro fun.  And while you're at it, go through their archive featuring hundreds of videos. 

To get you going, here's another of our favorites: "Having a Luau—With Spam." As they say, thanks to the help of spiced ham in a can, you won't even miss that old pig!

The Velveteen Lounge Kitsch-en presents
"Having a Luau—With Spam."
(Insert obligatory spam joke here.)