CARO EMERALD
El Rey Theatre, Los Angeles, CA
January 22, 2013

Review of Caro Emerald's first public performance in The United States
by David Gasten

Posted February 3, 2013
For a short intro to Caro Emerald and her music, please see This is Vintage Now's Caro Emerald page. Also visit Caro's official website at Caroemerald.com.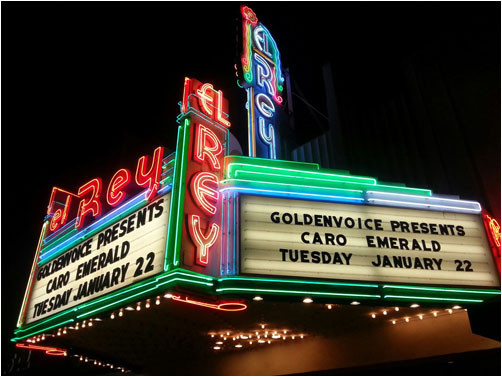 The marquee of the El Rey Theatre in Los Angeles, California, on January 22, 2013, the night of Caro Emerald's performance at the venue. This was her first public performance in The United States. Photo courtesy Wieger Hoogendorp.
Caro Emerald. I guess I must be one of her earliest American supporters. I found her album Deleted Scenes From the Cutting Room Floor via a deep eBay search for "Swing Dance CD" that I conducted in March 2010, about 7 weeks after the album came out in January of that year. I instantly sensed that there was a quality and an authenticity in Caro's music, and started keeping an eye on her. At that time she was a big hit in her home country of The Netherlands, but nowhere else. But by the time I approached her label Grandmono Records to license Caro's song "Just One Dance" for This is Vintage Now in the summer of 2010, her success had spread: she was on the top ten in Italy, making inroads in France, and was already multiplatinum in the Netherlands. That success would go on to strike Germany, make its way to Poland, have an echo boom in Germany, and then strike the UK, where she made the BBC Top 10.
All this time, however, David Schreurs, Caro's producer, songwriter, label owner, and manager, had a vision for Caro breaking the American market. It is extremely difficult for a continental European artist to break the American market because of the unfortunate culture centrism that exists here in the States, and also because of the expense involved in cracking such a large market. Many people told David that it couldn't be done, but he, Caro, and his entourage at Grandmono Records believed the impossible could happen anyway. And in 2012, they began to realize that dream, licensing their music for numerous American TV shows and commercials, and seeing Deleted Scenes From the Cutting Room Floor sell 10,000 albums and 100,000 single tracks in the US with no promotional push. They were offered a Stateside contract with Universal Records after Caro did a private performance for industry professionals here in Los Angeles last summer, but wisely decided to decline.
In late 2012, Grandmono Records announced a self-financed, two-date US tour for November 2012 with one date each in Los Angeles and New York City. The LA show would be at the El Rey Theatre, a comfortable midsize venue in the Miracle Mile district southwest of Hollywood. Initially the tour had to be rescheduled due to concerns about transatlantic travel following Hurricane Sandy, so it was postponed to January 2013. But during that time, word about Caro's upcoming show had time to spread in LA, with articles popping up in local LA publications, and gossip columnist Perez Hilton giving away tickets to the show. The result was a healthy turnout, with the venue half full of excited Caro fans of many stripes.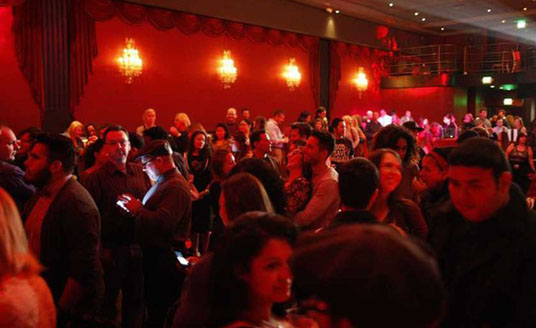 The audience waiting for Caro Emerald to perform at the El Rey Theatre in Los Angeles, California, on January 22, 2013. Photo courtesy Ad.nl.
Who were these American fans, and how did they find out about Caro? I'm pleased to report that they were a quite diverse group of folks. A lot of them found Caro on YouTube; some of them knew of her from having connections with other countries or from traveling abroad. Many of these people "converted" their friends and brought them along as well. The audience demographic was very similar to the general read that I have been getting on my various This is Vintage Now web pages. The ages ran from mid-20's to early 60's but leaned toward the younger side of that continuum. The gender ratio was about half women and half men, with the men tending to be about 10 years older than the women on average. People came from San Francisco and San Luis Opispo in Central California, Seattle, Utah, Las Vegas, and even Guadalajara, Mexico to see her. There were white and Hispanic Vintage fans, and ladies wearing vintage outfits and fashion pieces, but a lot of the audience (including the Vintage fans) were dressed in current outfits.
The thing that separated much of the American audience (about 65% of this audience) from their European counterparts was the voraciousness of their interest and the deepness of the adoration and love they expressed for Caro. It was like a classier, more gentlemanly/ladylike version of the heavy metal scene. With Caro, this audience got what they have been waiting an eternity for: a genuine, relatable, authentic, from-the-heart, Vintage-style lady backed with top notch music and musicians, who together put on a great show. Caro is a regular girl who is just as amazed by her own success as everyone else, and doesn't give anyone a reason to hate her. And you could not miss that the audience wanted more—more from Caro and from other artists like her. Now that the American audience had the authenticity they were looking for, and could come out of hiding to play at long last, even if it was only for a brief moment. There were others in the audience that liked her more as a lady singer in their treasured collection of Katie Meluas and Lana Del Reys, or knew her as a pop star from abroad (many mistakenly believed she was British). This second group's love for Caro, although different in nature and maybe a little more conservative in the way it was expressed, was no less real.
The audience stood in place and waited one hour fifteen minutes for Caro with no opening act. The band were supposed to go on at 9:00 pm, but were 15 minutes late. The audience tempered their impatience and were kind and understanding, as though concerned that she might be nervous, and that that was the holdup. One fan even messaged to the official Caro Emerald Facebook page a very sweet, "Come out, come out, wherever you are!"
Caro Emerald making a pouty face while performing at the El Rey Theatre in Los Angeles, California. Caro's lovable and often girlish personality resonated powerfully with the American audience, who bathed her repeatedly in adoration. Photo courtesy Ad.nl.
When the curtains opened, the audience cheered wildly and the backup band started with a swinging instrumental, after which Caro came onstage to even more wild cheering, performing the song "You Don't Love Me" from Deleted Scenes. Caro may have been a little nervous at first, but all it took was a look at the supportive faces in the audience to confirm that yes, she was loved, and no, there was nothing to fear.
Most of the tracks Caro performed were from Deleted Scenes; she also did a great cover of "Bei Mir Bistu Shein" a little over halfway through. I can say after seeing this show that the band really have the arrangements down and nail it in conjuring an authentic feeling Vintage experience. Many in the audience, especially the ladies, were singing along with the songs.
There was a sense of "Awww" throughout the night, as in "Awww, she's so sweet!" Audience members yelled "We love you, Caro!" over and over throughout the night, and just poured love over Caro again and again as she performed. By the end of the night, the 1/3 to 1/2 of the audience that showed their love for Caro so extremely turned into 2/3 to 3/4. Although there were some cat calls, there was also a bristling from other audience members that said, "Stop! Don't do that to our Caro!" when those sounded off. She may be a beautiful, sensual lady, but she is a lady; please handle her with care and treat her kindly.
About halfway through the set, Caro was overcome with a rush of emotion that I interpreted as a realization that the dream of playing in America had come true; it was indeed real. This teary-eyed "We did it!" state was with her for about three songs. Then when it came to the final song of the set, Caro said to the audience, "I hate to have to say this, but this is our last song", as if to say, "Where did the time go?" After this "last" song ("A Night Like This" if I remember correctly), the audience then cheered her back out for an encore, which was the song "Stuck". Caro left the stage halfway through, and the band encouraged the audience to cheer her out yet again, which the audience had no trouble doing. After this was done and the band left the stage, there was a wonderful sense of satisfaction and joy in the air, not to mention a hunger for more.
After the show, I took a very long walk around Hollywood (where I live) to let my mind process what I had just seen. I didn't really think about a lot, just put on Henry Mancini's Breakfast At Tiffany's (1961) soundtrack and walked around on Sunset Boulevard and the Hollywood Walk of Fame, as well as down a few quieter off-the-beaten-path streets, absorbing the class and the old-fashioned ways of doing things that are built into those old stones and those buildings. The class and beauty of Hollywood's yesteryear is still there, waiting to be rediscovered underneath the graffiti, glitz, and narcissism overrunning it.

Caro Emerald performing to her esctatic audience at the El Rey Theatre in Los Angeles, CA. The audience was very intense in demonstrating their love for the music and for Caro. Photo courtesy Ad.nl.