Interview with Pola Negri, 1978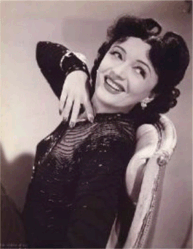 Pola Negri as she looked in Hi Diddle Diddle (1943). Still looking fabulous at 46!
The following is a typed transcription of Pola Negri's answers to an unknown journalist's interview questions. It was found loose in a large scrapbook she kept of newspaper clippings, photographs, and programmes from her film career; that book is now located in her memorabilia archive at St. Mary's University, San Antonio, Texas. Pola very rarely gave out interviews later in her life because she wanted her book Memoirs of a Star [1970] to be a final summary and statement about her career as an actress, so this interview is definitely a rare item.
In this interview we get to hear Pola herself summarize her career as an actress, adding a few extra opinions and nuggets of information that her book does not touch upon. Other than the correction of a few spelling errors, everything hereafter, including the parenthetical "Translation of the French is..." statement, is shown as is on that transcript.
Interview Answers 1978

My answer to your question of the 20's and early 30's.
Speaking of the 20's and 30's that was the most extravagant and glamorous era of the film industry. There was hard work and longer hours than at present, but there was dignity, class and great style. Stars didn't have to worry as they were on long term contracts and were able to enjoy their vacations without worrying about tomorrow. Few had financial worries due to large incomes and little taxes. Alas, in 1929 came the Stock Market crash and everything changed and became worrisome. People started practicing conservatism because of financial losses, myself included.
Your question – did I introduce sex into films.
Yes, I was correctly quoted in saying I introduced sex into films in the 20's, but it was sex in good taste and left a great deal to one's imagination. For example – in "Forbidden Paradise" (a filmed satire of Catherine the Great of Russia) directed by Ernst Lubitsch, my favorite director since we started our careers in Berlin on Max Reinhardt's stage – the Czarina invites her aide-de-camp to visit her in her private budoir (the aide was played by Rod La Roque who was over 6' tall). According to the part he was very stiff and shy during the visit as he had left his fiancee waiting for him in the garden by the goldfish pond. The Czarina was trying to kiss him, but to no avail, as he was much taller and she only reached to his shoulder. Out of the corner of her eye she saw a footstool and reached out with her foot to pull it closer, stepped onto the stool and was then the same height as he – she put her arms around him and kissed him. He responded to the kiss. In the next shot the cameras zoomed to the fiancee who noticed the lights in the Czarina's room go out and the camera then turned to the pond where two goldfish were making love.
Subtle sex suggestives were also used in my other films, including "Woman of the World" directed by Mal. St. Clair and practically all my films I made in Europe in the early days before I signed a contract with Famous Players-Lasky and later Paramount.
You asked if I would agree with Miss Rosen's comments about my acting.
I agree with Marjorie Rosen's good psychological analysis of my acting ability. The proof of my talents as a dramatic actress showed forth in films made in Europe such as "Carmen", "Madame DuBarry" (called "Passion" here in America) and "Sumurun" amongst others.
------
Your question on films of today.
The presentation of hard core pornography, brutality and shocking language, from what I hear, is leaving the public jaded and tired of this kind of film. Of course, Hollywood is still making some excellent pictures which reflect the great artistry that made Hollywood famous throughout the world, but these films are exceptions, judging from box office returns and press reviews.
--------
Your question about my training and experience.
The experience of my ballet training was short lived on account of delicate health. Later, after spending some time in a sanitorium in the Tatra Mountains I entered the Dramatic Academy in Warsaw and after two years of study I received a diploma and gold medal and became a stage actress. I played in "Hanalee" by Gerard Hauptman and Clara in "Sodom's End" by Suderman and many others. Max Reinhardt saw me in "Sumurun", a pantomime, on the stage in Warsaw and engaged me to play the same part on his stage in Berlin – that's where I met the young actor Ernst Lubitsch, who also had a part in "Sumurun". Lubitsch and I were engaged by Union films (which later became the famous UFA) – Lubitsch as a director and myself as a star. My hard work and excellent training entitled me to be a better actress than some of my competitors.
I consider that my three greatest silent films in the U.S. were "Hotel Imperial" directed by the excellent Swedish director Maurice Stiller and "Barbed Wire" directed by Roland V. Lee and produced by the renowned German producer Eric Pommer and "Forbidden Paradise" directed by Ernst Lubitsch.
In 1932 I was engaged by RKO to make my first talking picture. The story was of a cabaret singer by the name of Maria Draga and the King of Serbia. A song was composed by Nacio Herb Browne called "PARADISE" which I introduced in the film and the song became world famous.

In February, 1935 I received a long distance call from Willi Forst in Berlin to do the film "Mazurka" for UFA under his direction. He told me the plot over the phone and I was so enthusiastic about the story that I promised to be in Berlin within three weeks. The film "MAZURKA" I consider to be the greatest talking picture of my career. Besides, it became a world success too.

My other successful talking pictures "Madame Bovary", "Tango Notturno" etc. followed. I then remained in Berlin until Dec. 1938, spending my time between pictures at my villa on the Riviera.
-------
Your question "How did I manage to build up my fortune".
Large salaries and the low taxes of those days, also real estate and stock market investments enabled me to build up my estate. Today the salaries of stars are astronomical in comparison with the 20's, but the high cost of today's living and taxes takes a huge bite out of these salaries. In spite of all this, some of the more conservative stars of today are able to build up their estate into considerable amounts.
--------
You asked if I have seen any of my contemporaries lately.
As I have retired and have resided in San Antonio for many years (with the exception of making one film for my dear friend Walt Disney "The Moonspinners" made in London) and am surrounded by friends not in the acting profession, I rarely have a chance to meet fellow colleagues of the past. I am also very busy with civic affairs such as the San Antonio Symphony, St. Mary's University, Trinity University and others. I do visit Los Angeles from time to time and receive great pleasure in seeing my old friends who are still alive.

Los Angeles will always have a war spot in my heart for the happy memories it evokes.
-666----
The answer to your question "Who was the man you admired the most and loved the most?"
Of course this man was Rudolph Valentino. It is difficult for me to write more about our close relationship as I covered it fully in my book "Memoirs of a Star", published by Doubleday in March, 1970.
If you have any further questions regarding our romance you can refer to the book. I must add one thing – just before Rudy left on his visit to Europe and New York he gave me his last photograph inscribed –
"TO MY IMPERIAL YET IMPERIALLY DARLING POLITA
QUE J'AIME PLUS QUE MA VIE"
RUDY.
I shall always cherish this photograph.

(Translation of the French is – "Whom I love more than my life")