Pola Negri: Her Final Interview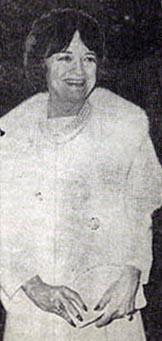 Pola Negri in 1971.
Gregg Barrios is a film critic and journalist who, at the time of Pola's death, was living in Los Angeles and writing for the Los Angeles Times. Barrios was assigned by the Times' Calendar to profile Pola Negri in 1987, and was completing the article when the news came of Pola's August 1 passing. His article was published in the Sunday, August 9, 1987 issue of the Los Angeles Times under the name "Legendary Vamp Takes a Final Bow: Pola Negri and Her Hollywood Heydays." It turned out to be her final interview.
This is a full transcription of the actual interview with Pola that the article was based upon.

Harbinger LTD Transcript –
Pola Negri Interview by Gregg Barrios, May 1987
Gregg Barrios (G). Good Afternoon, Miss Negri.
Pola Negri (P). Good Afternoon, Mr. Barrios.
G. How are you today?
P. I'm so sorry that I'm not feeling well. … eager to join you all. You will be interested to know that I am one of the world's first stars of the early movies.
G. Yes. I…
P. I came to the United States from Germany at the start, but discovered which of my movies sensation
back in Germany, back in Europe, created such a sensation in the early days in New York.
G. Yes. I've read your memoirs and was very excited about reading it. It was very well done.
P. I'm probably the only one left of the old stars.
G. Yes. The old stars are almost all gone, but there is a contemporary of yours still alive – Lillian Gish.
P. Of the (centennial), I'm probably one of the very few.
G. Do you have fond memories of your friend Lillian Gish who is still alive.
P. I don't know. I never met her. She was a star between me, before me.
G. Yes.
P. When I came to the United States, I was already a star in Europe.
G. Yes. I know. Yes. Your films with Lubitsch are still classic…
P. And then I arrived here in January when I was 22 years old. I've been ever since here. I am an American citizen and very proud of it. This makes me my home … One of the last, very few of the probably alive, of that century.
G. Yes. Columbia is celebrating their 75th anniversary as a studio and you are one of their first stars.
P. I was with Paramount for a long time. I was with Paramount.
G. Yes. They are celebrating their 75th anniversary as a studio.
P. Oh I see.
G. And you are one of the first stars to come to Paramount. Do you remember your friend Gloria Swanson?
P. Yes I do remember.
G. Do you have fond memories of her?
P. We were competitors. We were on the same two stars on the Paramount Pictures. There was also … some said jealousy. Friendship. I'm not the type to fight or be jealous. I believe in myself. I believe in my talent. Only, I wish I could do more than I do now.
G. Um hum.
P. Because I have retired on account of health. My poor health. Then, I came back. My last picture was The Moon-Spinners.
G. Yes. I enjoyed that movie with your part as Madame Habib.
P. Madame Habib.
G. Yes. I wanted to ask you. Did you consciously think of your meeting with Sarah Bernhardt, who had a pet tiger, when you did that role?
P. No. No. Sarah Bernhardt was a long time before my role.
G. Yes. But you mention in your book…
P. I met… My gross father was her best friend.
G. She had a pet tiger. Is that not correct? And you used a pet tiger. I thought you were doing an omage to her when you did that.
P. No Darling. For Moon-Spinners they had the cat. I don't like cats, so I told Mr. Disney who made the picture that we shouldn't and Walt Disney and the … studio in the final studio in London and suggested … to Paramount in Hollywood I don't object, I like the part, but I object to the cat. Madame Habib, the character, Madame Habib, will not have a cat, but she would like to have a cheetah. So they gave me the cheetah. The cheetah was so attached to me, the cheetah would follow me to my bedroom.
G. (Laughs.) You have said in several occasions, the fact that you felt that you were under a gypsy curse.
P. No.
G. Of your father. Is that true or untrue?
P. No. I never say this. No, darling. Somebody, some story.
G. Someone invented that.
P. Invented. So many people invent story of us. You know that.
G. Yes, I do.
P. Unpopular. Of course. Sorry.
G. Is it true that you were offered the part of Norma Desmond in Sunset Blvd. and you refused the part?
P. Yes. Because I was not in a good health and Gloria Swanson made a great success with it.
G. Yes she did.
P. And I was very proud and congratulated her. I was assigned for the part, but I was sick, you know. At the time I had no money.
G. You refused the part.
P. I could not on account of poor health. I could not accept. I loved the script. I knew she would be wonderful in that. You know, so….
G. Were you also offered a part in The Good Earth?
P. Yes. Yes. Yes.
G. That's another part, you had gone to Germany at the time and could not get out of your contract to play that part.
P. Yes. Yes. Yes.
G. And what about For Whom the Bell Tolls and the part of Pilar?
P. I did not go for this.
G. I'm told by …. that you were given a chance to play a part in Anastasia?
P. Anastasia?
G. The film with Bergman, Ingrid Bergman. Anastasia is the…
P. Anastasia on the stage?
G. No. No. In the film.
P. I can't remember this. I have been in so many others. It's hard to remember.
G. Will you tell me a little about your dear friend, Russ Columbo?
P. Of yes. I was very fond of him. I was very fond of him. He was a great singer. And of course my great love was Rudolph Valentino.
G. Yes. And how do you remember Rudy today?
P. Today. With a great, great regret. That fate changed what was not meant to be. You have to take your love and your anger to this. Mainly you write people you resent. You hope this will work. But this time, he died before when we were engaged to be married.
G. They had an homage to him at the Academy of Arts and Sciences in Hollywood several years ago and your lovely telegram was read with greeted with much emotion at the auditorium. And we're sorry that you could not be there then to see the homage and the films they showed of Rudy.
P. I plan to go to California for a couple months vacation.
G. Wonderful.
P. …
G. It's wonderful. I hope to see you then.
P. I hope to meet you personally.
G. How do you feel about the fact that the Pope is coming to San Antonio?
P. I think this, being a good Catholic, in this country. I'm Polish. We both are Polish.
G. Yes.
P. I want to see him and I'm very looking forward to this--to this homage, the great homage. I hope I will be well enough to greet him personally.
G. One last question Pola. Is it true that one time when in Warsaw, you met Nicolai Lenin?
P. No. No No.
G. That's not true.
P. They invented stories. They invented stories.
G. Another invention.
P. No. There is no truth to it.