Pola Negri in MADAME BOVARY (1937)
A review of 2009 screening of the film by Frank Noack
Written 4-5-09; added 3-28-10
(Note: Madame Bovary is a Third Reich-period movie adaptation of the 1857 Gustave Flaubert novel, which is now considered to be one of the classics of fictional literature. This 1937 German version was directed by Gerhard Lamprecht and features Pola Negri starring as Emma Bovary. The novel has been made into a movie several times, and in fact was preceded by a 1934 French adaptation directed by Jean Renoir. This Pola Negri version of the film has yet to be released on video. For background on the Flaubert novel itself, including a plot summary and character studies, check this Wikipedia article.)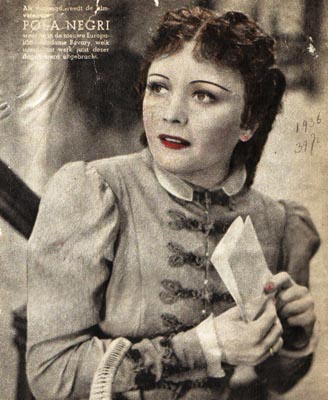 An almost unrecognizable Pola Negri as a young Madame Bovary.
The six German films which Pola Negri mad between 1935 and 1938 were directed by five different men. She had no regular screenwriter, cinematographer, composer, costume designer, or leading man. As a result, all these films look and sound different despite some recurring plot elements. MAZURKA is definitely her most exciting film of that period: over-the-top, feverish, stylized, corny, with not one single realistic moment in it. TANGO NOTTURNO is more uneven and loses a bit after repeated viewings: it has strong moments and carefully drawn supporting characters, but it can't overcome the central miscasting of mature, aristocratic Albrecht Schoenhals as a budding young composer, and it doesn't always show Pola to her advantage. DIE FROMME LÜGE is a solid but modest melodrama, not too ambitious in the first place. I haven't seen MOSKAU - SHANGHAI and DIE NACHT DER ENTSCHEIDUNG, but judging from stills and plot descriptions, they are unlikely to be superior to the others.
Now at last I have caught MADAME BOVARY. It was shown on April 3, 2009 in Berlin's Zeughauskino, as part of a tribute to actor Ferdinand Marian. The official length was 91 minutes, though my watch registered 93 minutes. A slightly grainy look and a mute passage of about one minute, where subtitles explain the inaudible dialogue, suggest an adventurous preservation history. Indeed, a title card informed audiences that the copy shown was a 1996 restoration by the Bundesarchiv. That the Bundesarchiv took the trouble to restore the film at all may be regarded as a recommendation.
Born in 1897, Gerhard Lamprecht was a solid director in every way, thoughtful and serious without ever seeming pretentious. MADAME BOVARY has a stylistic purity that suggests a much older director, one who has learned the pre-World War I cinematic alphabet from the likes of D. W. Griffith or Cecil B. DeMille. The credits are presented on a framed tablet or plaque, of the kind no longer used in talkies. The film's first shot is of a coach, approaching a small town by night. Lamprecht crosscuts between the coach and the tavern it is approaching, and between Emma Bovary and her future lover Léon Dupuis, whom we see in action at the tavern's pool table. Pola isn't introduced as a star, which is out of character for her. She is just one passenger in the coach, listening to a conversation. As she enters the tavern, not too visibly followed by her husband Charles, she is greeted by the aggressively charming Léon. She smiles back, then turns away, walking directly to the fireplace. Why is she drawn to that fireplace? It isn't winter, nobody is freezing, and yet she is attracted by the light and the heat. Screenwriter Erich Ebermayer has put as much sexual symbolism into the script as possible, with some risible results. Complimenting her on her garden, in the presence of her doctor husband, Léon tells Emma: "Your hot breath lets the flowers grow."
During the bumpy coach ride already, a plaster statue of Amor has fallen off the roof, breaking apart. A new one is quickly made, which says a lot about the value of love in the Bovary marriage. Ominous warnings are muttered as soon as the townspeople have seen Emma. Madame Homais, a married former mistress of Léon, curses Emma. Other townspeople think Emma should be warned. Léon himself warns her, not against falling in love with him, but because of her neighbor, a tax collector who is also peeping tom and a possible stool pigeon. This last warning contains a double meaning. (Werner Scharf, the dashing actor who plays Léon—and looks a bit like Olivier Martinez—was involved in the Communist underground and was murdered during the last days of the Reich.) The feared neighbor, the binocular-holding tax collector, enters a pharmacy in one scene in order to buy leeches. No less obviously symbolic is an estate manager's rejection of a cigar offered him by Rodolphe Boulanger, Emma's second and more serious lover: "Your tobacco is too strong for my taste." When Emma is in debt, and her jewels have been confiscated, they are laid out beside a skull. To his credit, Ebermayer has also injected some spiciness, as when Charles Bovary is told about an old libertine with whom he is playing cards: "He has slept in the beds of queens."
Casting Aribert Wäscher as Charles Bovary was risky, but it paid off. This bulky, lecherous-looking actor is not the typical innocent husband one expects, and indeed Wäscher was usually cast as a slimy blackmailer, not the victim of intrigue. Since he isn't weak in appearance, his weak behavior is all the more touching. A scene in which Léon visits the Bovarys, playing chess with Emma, flirting with her all the while Charles is retreating in order to read the newspaper, might be ridiculous with a different actor, but Wäscher keeps his dignity, even when Léon asks Emma: "Is he always so tired?"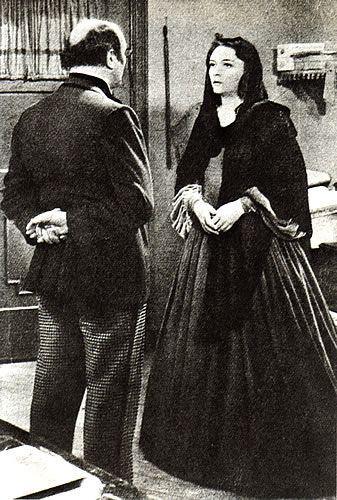 A still frame from Pola Negri's Madame Bovary (1937), which illustrates how the movie does not try to completely glamorize the Emma Bovary character.
Emma Bovary never had a better interpreter than Pola Negri. This being a Pola appreciation site, readers might think I am biased. I am not, being a critical admirer. Here no reservations or false politeness are necessary. In Jean Renoir's 1934 version, Valentine Tessier was too plain, whereas in Vincente Minnelli's 1949 version, Jennifer Jones was too glamorous, to say nothing about Van Heflin's too strong and masculine husband or Louis Jourdan's weak Rodolphe. Isabelle Huppert, who essayed the part for Claude Chabrol in 1991, seemed too aloof and derisive, incapable of remorse, let alone suicide. Pola is alternately plain and glamorous, capable of irony and vulnerable. There are some deliberately unflattering shots, even one in which she displays a double chin. And there are others that take your breath away. Sometimes she looks like a sturdier Vivien Leigh. One believes that a man of the world is enchanted by her, and you believe her insecurity because she's no longer in her prime. In a love scene with Rodolphe, she says: "There are more beautiful women than me", and it is not false modesty. She is beautiful, and yet not completely irresistible. Pola's own status as a foreigner helps. She truly feels stranded among her German colleagues. Other people are nice to her, but we feel she is lonely. She doesn't really connect with anyone. That is, until she meets Rodolphe.
Charles Bovary gets an invitation to a ball given by a Marquise. In this location, both Pola and her director, Gerhard Lamprecht, reach unexpected heights. She has been well-dressed and coiffed from the start, but right now she is gorgeous. And Lamprecht, who until then might have directed from a wheelchair, suddenly stands up from his chair and gets excited. So are we, the spectators. Emma's gown is modeled after one that the Empress Eugenie has worn. Pola, one should recall, has repeatedly and convincingly played empresses. It is here at the opera that she finally meets her match, Rodolphe. Ferdinand Marian's task was a difficult one. He had to appear out of nowhere, and we must believe Emma's immediate falling for him. We do believe it. There is magic in the room. Both performers are mesmerizing. "Isn't it embarrassing for you to be seen with me?", Rodolphe asks. Emma feels no embarrassment. She defends him against other people who might say bad things about him. "And what if they are right?" he responds.
Emma doesn't care. She's the ultimate decent sinner, or rather, a woman who is above sin. She loves her husband the way a woman loves her brother or son, while she is romantically attracted to Rodolphe. She isn't torn between two men because Charles and Rodolphe are too different to even consider comparisons. When she reproaches Charles for having looked ridiculous at the ball in his shabby suit, it's not humiliating but well-intended; she wants him to look better to others.
It says a lot about the film that Charles is never pathetically ridiculous. There is another humiliation scene when, having performed poorly at an operation, he is told by Professor Canivet (Rudolf Klein-Rogge, formerly Dr. Mabuse) that he should accept his limitations; he will never be more than a mediocre country doctor. This reproach is overheard by Emma, who even now cares for her husband instead of despising him, and who remains pure in whatever she is doing. While she loves exquisite dresses and jewels, she never seems greedy or vain. She is just a dreamer who longs for a different world. After the ball, in the coach, Charles is relieved to get away. "There is no place like home", he mutters. Emma remains silent. We see her vulnerable beauty and know his world is not hers. Here, as throughout the film, the costumes and hairstyling are masterful, expressing her feelings without becoming obtrusive.
Pola Negri and Ferdinand Marian make a great couple. They bring off special qualities in each other. Most of her partners have been bland, and while he has starred with some formidable women, none could compete with Pola. In Douglas Sirk's LA HABANERA (1937), Zarah Leander was rather wooden, while in REISE IN DIE VERGANGENHEIT (JOURNEY INTO THE PAST, 1943), Olga Tschechowa was too ladylike to allow for passion. With Pola, Marian for once was the great lover he has always dreamed of being. The son of traveling stage actors, he was ashamed of his humble and non-German origins, and his being typecast as a slimy foreign seducer, most notoriously in the title role of Veit Harlan's JUD SÜSS (1940). He desperately longed for acceptance. Watching him play opposite Pola, you can feel his vulnerability, his fight for dignity.
Their passion notwithstanding, both remain natural and restrained. "Are you mad?" she asks. "Yes", he answers casually. These two performers are not hams—they don't pose and don't roll with their eyes. In his 1969 book Film in the Third Reich, David Stewart Hull claimed that audiences all over Germany had been laughing at Pola's Emma Bovary, and David Shipman cited the same in his book The Great Movie Stars: The Golden Years. But there is no evidence that anyone had laughed at Pola in 1937. Perhaps some jealous German actress had told Hull anecdotes which he, unfamiliar with German culture, readily believed. Pola's playing is subtle, and even the character's negative behavior is restrained. The whole film is a delicate period piece without hysterics or feverish histrionics.
Marian was the sort of actor more popular with women than with men. One scene has Emma entering his house, and he routinely helps her undress - it is only her coat, but the implication is that he is a master at undressing women. When he jilts Emma, it is not out of cruelty, just pragmatism. A scandal would cost him his fortune. You don't hate him for jilting her, and you don't find her stupid for having fallen in love with him. Rodolphe was worth the sacrifice. Certain things must be done even if they are fatal to you. While it is understandable that Emma missed Léon when he left her small town, it is obvious she can't survive without Rodolphe, and the official motive for her suicide - her debt - appears secondary. She has lived to the fullest during her short affair and is ready to die. Visiting Léon one last time, asking him for legal advice, she realizes he is still a good friend, ready to help her; when he suddenly turns passionate, she steps back, unable to endure passion any more. She has had enough of it.
Aside from the ball, where Emma's intimate moments with Rodolphe are intercut with fireworks, the best-directed sequence is the one in which Emma reads Rodolphe's letter of farewell. She expects the letter to contain exact plans for their mutual escape, and since the letter is so important to her, she wants to read it in private. But she has no privacy. Charles is shouting "Emma" all the time. She runs up to the attic. It is dark and dusty here, so she opens the window. Light and fresh air come in. Only now is she able to read the letter, which to her horror contains a rejection. She breaks down. Outside, autumn leaves dance in the wind. Giuseppe Becce's beautiful score is restrained even here; this pioneer of silent pictures may well be the chief contributor to the film's air of innocence and purity. He has composed a special theme for Emma that is melodious without appearing banal. Even the choir that is heard as Emma dies from her poison remains tasteful.
Thus, along with the garish MAZURKA, the quiet, understated MADAME BOVARY is Pola's most perfect German film of the talkie period. Its rhythm and atmosphere are flawlessly delicate, and the few over-explanatory symbols and lines of dialogue mentioned before become irrelevant.
(back to Articles and Movie Reviews)