Hi Diddle Diddle: an Anti-World War II propaganda film on DVD
A review by David Gasten
July 13, 2009
Hi Diddle Diddle (1943), starring Pola Negri, Adolphe Menjou, Martha Scott, Dennis O'Keefe, Billie Burke, June Havoc, Walter Kingsford, Barton Hepburn, Bert Roach, and Lorraine Miller. Produced by Andrew L. Stone Productions; released through United Artists. B&W sound film, 72 minutes. DVD released by Grapevine Video, May 8, 2009.

(Click here to buy Hi Diddle Diddle from Grapevine Video for only $4.95! When you arrive at the page, click "Add to Cart", and when the e-shopping cart pops up, type "PNAS" into the Customer Code box to receive this title at the $4.95 price.)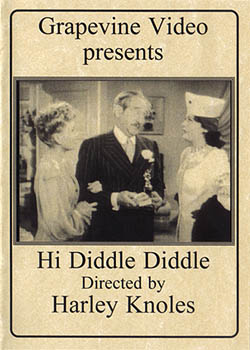 If you haven't seen American Propaganda movies from the World War II period, you've probably at least heard of them or are aware of the clichés. In a nutshell, they're fluffy, minimal on plot, and as cheery, patriotic, and "Go Team" as they come. But not everyone agreed with what was happening at the time World War II was taking place, so there do exist some examples of anti-World War II propaganda, although they are rare. One example of anti-World War II propaganda is the independently produced, United Artists-distributed comedy Hi Diddle Diddle (1943), which features Pola Negri in her second-to-last performance on the screen.

The idea presented in Hi Diddle Diddle is that the war was getting to be so all-consuming that it was taking precedence over everyday life, to the point that the American people couldn't really do anything without it hinging upon "the war". The movie questions the legitimacy of the American government's meddling and the collectivist mindset that was predominant at the time, wondering aloud when ordinary Americans would be allowed to live normal lives again. But because this is very much a dissenting opinion, all of this is cloaked in humor and stated subtly, with the most overt statement being in the movie's opening prologue, which is:
"This is a factual and authentic document
based on the actual conditions existing in the world today.
It is admittedly propaganda. It is a picture with a purpose.
'TRY TO FIND IT'."
Plot Summary

The story then opens at the wedding breakfast of newlyweds Sonny Fyffe (Dennis O'Keefe) and Janie Prescott (Martha Scott). The only problem is that the wedding hasn't happened yet because Sonny is a sailor with the Navy and his ship hasn't come in yet, so the hosts of the wedding are making the most of the problem by feeding the guests in the meantime. Sonny's father is Colonel Fyffe (Adolphe Menjou), a racketeer making something of an attempt at going straight and who has married a Wagnerian opera singer named Genya Smetana (Pola Negri). But Col. Fyffe's racketeering ways are far from over, as he demonstrates a show car with no intent of buying it and steals a gift for his wife so that his son can arrive at the wedding in style and give a gift to the bride. Peter (Barton Hepburn), a jealous ex-lover of Janie's, has swindled Janie's mother (Billie Burke) out of all of her money and refuses to pay it back unless Janie marries him instead. So Colonel Fyffe hatches a plan to get back all the money by having an old ladyfriend named Leslie Quayle (June Havoc) pull some strings to rig the table at a gambling house she sings at called The 59 Club. This plan requires the Colonel to steal Sonny away from the newlyweds' getaway car, which leaves Janie an abandoned woman after her own wedding. Peter, Janie's ex-lover, so happens to be at The 59 Club right when the Colonel and Sonny show up at The 59 Club, so Peter connivingly invites Janie, her mother, and their friend Senator Simpson (Walter Kingsford) to the club as a way to sabotage the newlyweds' marriage. Somehow Smetana (Pola) and her manager happen to be there too, which makes the situation comedically tense and fiery when all of these characters run into each other at once.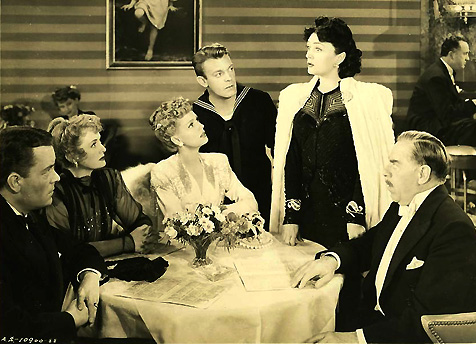 "Violence?! I'll show you Violence!"
Sparks fly when Peter (Barton Hepburn), Mrs. Prescott (Billie Burke), Janie (Martha Scott), Sonny (Dennis O'Keefe), Madame Smetana (Pola Negri), and Senator Simpson (Walter Kingsford) run into each other at The 59 Club.
The main problem is that Sonny has a two-day shore leave before he has to go back out to sea, so the Fyffes already have a shortened honeymoon to begin with. But the little piece of "business" at The 59 Club, which Col. Fyffe claims is a "government mission", has cost the Fyffes a quarter of their honeymoon. No sooner is the couple alone again when Janie has to report for duty as an air-raid warden and is gone all night. As soon as she returns, Col. Fyffe calls Sonny for another "pressing matter", which turns out to be another unscrupulous heist to get the rest of Janie's mother's money back. Sonny returns from this to find that Janie has mistakenly moved into Smetana's apartment, having thought it was an apartment that Col. Fyffe was getting for them. Will the newlyweds even get to have a honeymoon before Sonny has to get back on his ship?


Pola the Crazy Opera Star

In Hi Diddle Diddle, Pola Negri played a supporting character instead of the lead for the first time since her involvement with German silents over twenty years prior. With the stalling of her movie career in Nazi Germany and the worsening of conditions on France where she lived (and which Germany had taken over), Pola decided to go to Lisbon, Portugal to board a ship for America, as were many people living in Europe at the time. When Pola arrived in the United States in 1941, her star had dimmed considerably, but not completely. She kept herself afloat financially by selling off her extensive jewelry collection piece by piece, and began looking for work that utilized her acting and celebrity status from years prior.

Paramount auditioned Pola for the role of Pilar in 1943's For Whom the Bell Tolls. Pola was skittish about accepting the part, as she felt it would be a miscasting because she did not look right for the part physically. Ernest Hemingway himself rectified the situation by personally stepping in and asking for Katina Paxinou to play the part (Paxinou would win an Oscar for Best Supporting Actress in this role). After this, 20th Century-Fox considered Pola for a role in Claudia (also 1943), only to have director Edmund Goulding bar her from playing the role in favor of Olga Baclanova, who had played the part in the Broadway stage version of Claudia. In the interim, Pola went on tour selling war bonds for the American war effort. After a dry spell of no work, Pola received an offer from Hi Diddle Diddle producer Andrew Stone to play a supporting role in that film, which she accepted.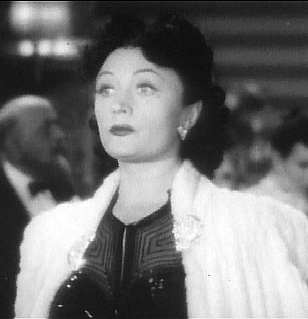 Pola as Genya Smetana, the "crazy opera star," in Hi Diddle Diddle.
In Hi Diddle Diddle, Pola plays Genya Smetana, a famous Wagnerian opera prima donna with all the clichéd emotional temperaments and outbursts, and who even comes complete with a manager that babysits her constantly. Pola's character is over-the-top enough that she is arguably the most standout of all the colorful characters in this movie. The Genya Smetana character is a gentle, respectful parody of Pola's real-life personality, as the real Pola had a Slavic tendency to feel things passionately and express them no holds barred. But obviously Genya Smetana takes this to extremes for comic effect. Smetana is such an attention glutton that any compliment or opportunity to sing derails her from whatever violent outburst she's going through at the moment. Her character also naïvely assumes that everyone loves music as much as she does, and doesn't have a particularly strong grip on where performance ends and reality begins. Smetama also pouts like a little girl a couple of times, which is very Pola.

After hearing Pola's Greta Garbo-like contralto in "Paradise" from a decade previously, it's quite interesting to hear her singing in an operatic soprano. This was actually the voice of an unknown soprano dubbed in for Pola's voice, but the dubbing sounds convincing enough that Pola recalled in her memoirs, "I received critical praise for the magnificent vocal prowess I had developed in the ten years since my throaty rendition of 'Paradise'."

After the success of Hi Diddle Diddle, Pola would retire from the movies, only coming out of retirement once more to steal the show in the 1964 Disney film The Moon-Spinners, and this only because her best friend Margaret West suggested that she do so shortly before she passed away. Why did Pola retire after Hi Diddle Diddle? According to Pola, "The era of typecasting set in, and I found myself typed as a low comedienne….One had only to have one success to find oneself besieged by offers to do no more than repeat the same performance." Pola's artistic standards took precedence—she would rather not work at all than to contribute to the creation of poor art.


More Silent Stars in Hi Diddle Diddle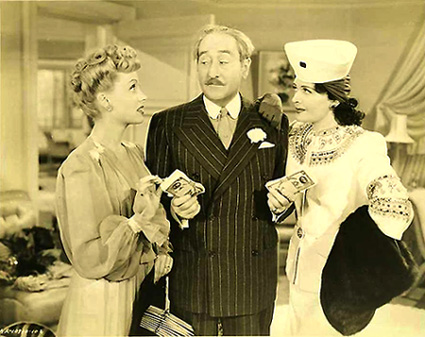 The silent era's best-dressed man, Adolphe Menjou, experiences the joys of having two women in the household in Hi Diddle Diddle.
Hi Diddle Diddle includes a number of other famous players who appeared in silent movies. Lead actor Adolphe Menjou, the "best dressed man" of the silent era, appeared with Pola in her Paramount silents Bella Donna, The Spanish Dancer, and Forbidden Paradise; he also played in D.W.Griffith's The Sorrows of Satan (1926), Charlie Chaplin's A Woman of Paris (1923; Chaplin's foray into directing a drama), Douglas Fairbanks' The Three Musketeers (1921), and many others. Billie Burke was onetime wife of Florenz Ziegfeld, Jr. of Ziegfeld Follies fame, and appeared in a handful of silents from 1916 to 1921. Burke is best known today as Glinda, the Good Witch of the North, in The Wizard of Oz (1939). June Havoc (little sister to the famous burlesque dancer Gypsy Rose Lee) was a child actress in the Harold Lloyd one-reeler Hey There! (1918), and later in the 1980's would appear as a supporting actress in the TV series Murder, She Wrote. Finally, Bert Roach appears at the end of the movie as the unwitting passenger in Sonny and Janie's goose chase back and forth in the taxi. Roach is best known as James Murray's co-worker and friend who ends up becoming his boss in King Vidor's The Crowd (1928).


Rapid-Fire Dialogue and Sex Jokes Galore

The idea behind Hi Diddle Diddle is to get a point across, and since its anti-World War II bias was the dissenting opinion and government censorship was in effect, the movie had to be underhanded and use humor to get its ideas across. The message gets slipped in with the help of a barrage of hilarious, rapid-fire dialogue loaded with humor and sex jokes that come at you so fast, you often don't have time to laugh at one line before the next one and the one after that hits. The sex jokes are all subtle in classic Pre-Code/Production Code style, but they are prevalent enough that the United States Conference of Catholic Bishops' Office for Film and Broadcasting still gives the movie an "A-III (adult)" rating and marks it with the commentary, "Much sexual innuendo." (See for yourself here.) This is the same rating this organization gives a lot of modern PG-13 (US) movies.

One example of the rapid-fire nature of the humor takes place later on at The 59 Club, where four of the characters sit at a table and the bartender approaches them to order drinks. The ensuing jokes are all on Mrs. Prescott, who obviously has little experience drinking cocktails. Peter implies that he wants a Tom Collins, and Mrs. Prescott thinks that that is the name of the bartender, so she says, "Oh, how do you do, Mr. Collins?" The anti-WWII bias shows up again when Peter suggests that Mrs. Prescott try a Horse's Neck, to which she responds, "Oh, I didn't bring my [food] coupon book!" (That's a reference to the poor quality of the food rations of the time.) More cocktails get suggested, each with a joke attached to it containing either a clever response or an association with Mrs. Prescott's lack of drinking experience. Finally, the Mrs. Prescott decides what she wants to order: "I know! A Mickey Finn!" (Yeah, slip her the mickey, Mr. Collins…)

Hi Diddle Diddle is also home to the longest innuendo I've ever heard in a classic movie. Whereas most innuendoes are short, this one is an entire piece of dialogue. It takes place between Col. Fyffe (Adolphe Menjou) and his lounge singer friend Leslie Quayle (June Havoc) and takes place in front of his wife Genya Smetana (Pola), whom Col. Fyffe just put into a taxi and is getting ready to send home. Just as the car gets ready to take off, out comes Leslie:


Leslie: (to cab with Pola in it) "Oh—Taxi, taxi!"
Col. Fyffe: There's somebody in that cab!
Leslie: In times like these we need to share a cab. [That was our reminder of how WWII had turned life upside down. Now for the long innuendo.] Oh, Eddy's going out of town, so we've got to keep our date tonight!
Col. Fyffe: Tonight? Well, that's going to be a little awkward…
Leslie: Darling, I'm sorry, but if you want to do it, it's got to be tonight!
Col. Fyffe: Very well then, tonight.
Leslie: You know this is gonna cost you, bunnigans.
Col. Fyffe: I know better than you do.
Leslie: Never mind, it'll be worth it!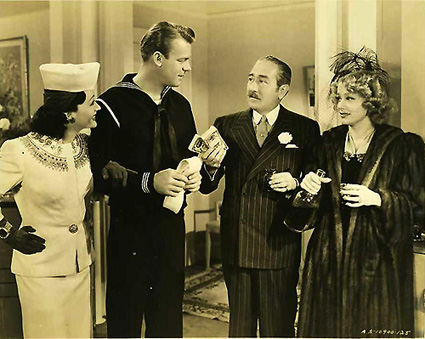 The real outcome of Col. Fyffe's and Leslie's plan to, well, you know. The character of Leslie Quayle (on the far right) is played by June Havoc, little sister to the famous burlesque dancer Gypsy Rose Lee. In my opinion, Pola and June Havoc both look especially adorable in this picture.
This is referring to the two's plan to, well, you know—actually, no, you don't know. Leslie is having a friend named Eddy install a stronger magnet in an already crooked roulette table at The 59 Club that works via a button in the inlay, and Col. Fyffe is supposed to come out to the club and "win" a bunch of money with the help of this magnet. Of course all this is said in front of a clueless Pola who thinks—well, you know.

Later at The 59 Club, when Leslie is getting her cut of this ill-gotten gain, Col. Fyffe (with Sonny in tow) says to her, "I've got a little something for you." Leslie's response is, "Well, I hope it's not too little! I can't stand anything too little, and that includes diamonds, money, and uh, [eyeing Sonny] men." Col. Fyffe has told Sonny that they are getting the money by numerology and that Leslie is his "numerologist". Leslie then starts trying to seduce Sonny, saying, "Why haven't we met before? You're one little number I haven't had the chance to study." Sonny's response is, "I suppose that you don't do anything except on certain days." To which she seductively replies, "That all depends on the inducement. Why don't you try, uh, tempting me…" And there's plenty more where these came from…
Breaking the Fifth Wall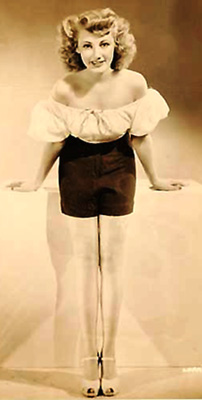 Look for cutie Lorraine Miller in Hi Diddle Diddle as she shows up in scene after scene in ways that make no sense at all.
Another thing that makes this movie unique is that it employs some fifth wall-breaking devices quite heavily. The three walls of a theatre stage are the left, right and back walls, with the "fourth wall" being the audience. Whenever a character in a play or a movie breaks the "fourth wall", they are looking at or addressing the audience. The "fifth wall" refers to the fictional context of the play itself. So when the "fifth wall" is broken, it's breaking up the continuity of that fictional context. Read this Wikipedia article for a little more on that.
Fifth wall-breaking devices did get used occasionally in the classic era of movies (Marilyn Monroe's The Seven Year Itch comes to mind as an example). Saturday Night Live and Monty Python also made use of them throughout the 1970's and 1980's for comedic effect. But they did not become particularly commonplace until the 1990's, when a lack of inspiration and ideas brought a torrent of them into pop culture.

Hi Diddle Diddle is a rare movie from the classic era that makes heavy use of fifth wall-breaking devices fifty years before it came into common usage. The dominant one in the movie is a pretty girl, played by Lorraine Miller, who shows up in scene after scene in ways that increasingly make no sense. They bring attention to it by having her run into Adolphe Menjou over and over to the tune of a "rings on her fingers and bells of her toes"-type musical theme. Then when she's playing the coat and hat girl at The 59 Club, Senator Simpson, Mrs. Prescott, and Janie walk away from her, and Senator Simpson says, "Haven't I seen that girl somewhere before?" Janie gets a mischievous smile on her face while Mrs. Prescott whispers, "She's a very particular friend of the director of this picture. He puts her in every scene that he can!" Janie then whispers, "Shhhhh! Someone might hear you…" I counted a total of sixteen scenes that this "friend" of the director pops up throughout the movie.
(subtitles and watermark not present in Grapevine DVD version)
Another fifth wall usage occurs in the wallpaper of Genya Smetana's apartment, of all places. The prima donna is so proud of her custom wallpaper that depicts Wagner and his family in a picnic. Later on, most of the main cast (including the well-utilized extra girl) end up in Pola's apartment and do a purposely painful, off-tune Tannhauser sing-along that sends Wagner and his family running for the hills within the wallpaper itself. (See the YouTube video at the right to see what this looks like.)



About The Quality of Grapevine Video's version of Hi Diddle Diddle
Hi Diddle Diddle is one of a number of films from the sound era that have gone into the public domain because their copyrights were not renewed. This has been very good for Hi Diddle Diddle because it has allowed the movie to be widely seen. The downside of that is that it also means that buyers have to beware of the quality of the home video releases of public domain films that they are purchasing.
A still frame from Grapevine Video's DVD version of Hi Diddle Diddle. Notice the amount of detail and contrast in the picture, even though much of the scene is quite dark.
Jack Hardy of Grapevine Video says that the 16mm print of Hi Diddle Diddle that Grapevine used for this DVD release is one of the best prints he's ever seen of this title. All I have to compare it with is my VHS copy that I bought in 2000, which ran smoothly but had a very dull, "gray" picture throughout. Grapevine's print is much brighter and retains a lot of contrast and definition. This is especially noticeable in the dark scenes, such as those that take place inside the black interior of a car, where you can see quite a bit of detail that would normally be lost. On the other hand, there are a few slightly jarring jump cuts, but that is relatively rare, and it is still a bit soft compared to a high-quality 35mm transfer.

Probably the biggest downside of this print is the amount of cue marks at the end of each reel. We could call it "Cue Marks for Dummies." There are cue circles, cue rings, cue diamonds, cue rectangles, and cue marks for the cue marks! If I were the projectionist, I would be thinking, "OK, OK! It's time to change reels—I get the point!" This overload of cue marks becomes a form of unintentional entertainment in and of itself, but it's still a relatively minor issue compared to watching a bad print.


Conclusion
There's a lot of fun to be had in Hi Diddle Diddle, be it in the hidden anti-WWII propaganda, the rapid-fire dialogue, the sex jokes, the well-employed extra girl being used in scene after scene, the animation, or the colorful and highly entertaining cast of characters that keep the movie rolling along. I have been watching this movie for almost a decade now, and I still find something new in it every time I watch it. It's one of my favorite American movies from the 1940's, alongside Orson Welles' Citizen Kane (of course), Charlie Chaplin's The Great Dictator, and King Vidor's H.M. Pulham, Esq.